Modern interior doors made with 100% natural wood materials.
Heavy slab - NO honeycomb, NO paper inside.
All interior doors are prehung, prefinished, ready to be installed.
Glass doors, french doors,transom and custom-built doors available.

Make a stately entrance. If a contemporary look is where your interior is headed, our 8 foot wood designer doors make a commanding statement for you. For modern designers and homeowners looking for a special way to treat their living spaces, our 8 ft interior doors provide a wonderful head start.
The quality you'll see hinted at below is what sets these 8 foot interior doors apart. Using carefully selected finishes that makes the most of matched wood grains and color balances, these doors give you 8 feet of functional design, and rich, extensive palettes to work with.
But the lasting value comes from our unique construction, and choice of premium materials. We belabor every detail to build something unique that will hold and share its value with every use. We want to help you transform the interior feel of your home using our 8 foot interior doors.

As if from the artist's brush. We'll use the simple and open faced grains of oaks, and offset them with attractive accents. Perhaps you want an 8 foot door with glass panels inserted. Or, maybe a simple 8' oak door with a subtle inlay and a transom creates the perfect look for you. There are some exciting choices to make.

But oak is just one of the many natural wood veneers that we use. There's the deep, regal feel of a mahogany or walnut door, the commanding presence of the almost black wenge wood, or the contemporary patterns to be found in the complex depth of zebrano and teak wood grain doors.
Some interior doors will be light and inviting, some touched with a cherried finish or patterned kiss, while some are left intentionally dark and mysterious. You decide which 8 ft wood door is best to lead the way in your design plans, and we will have what you need. If not, we will be happy to custom-build an 8 foot interior door to your specifications. It's time to live the dream.
Our heavy slab construction uses no honeycomb or paper filling and the exterior facings are crafted with eco-friendly Italian wood veneers. These 8ft interior doors create a sound barrier between living spaces…so when opportunity chooses to knock, it will be met with a solid (not hollow) showing.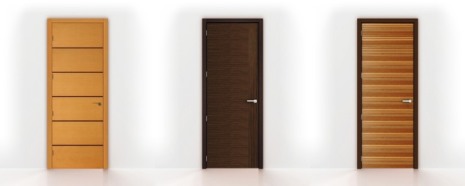 Secure and solidly built, beautiful, and with a dignified look that transcends fleeting fads and fashions, these 8 foot designer wood doors are the right way to start re-visioning your interior.
All door models are sold as pre hung interior doors with a knock down frame and molding sets.
Every door comes prefinished and ready to be installed at your project site. There is no need for further treatment of the slab, frame, or molding surfaces.
Every interior door set is priced according to the door width and includes the following components: slab, frame, levers, 2x molding sets, 3x hinges.
Door measurements conform to American standards with a standard height of 8' and widths of 24", 28", 30", 32" and 36".
Custom interior door sizing is also available upon request, quoted on an individual basis.