Modern interior designer doors made with Italian wood laminates.
All interior doors are prehung, prefinished, ready to be installed.
Glass doors, french doors, sliding and custom-built doors available.

Interior designer doors for less.
An eye for quality in contemporary interior designer doors is likely what brought you here. You know what you want; you know the look and the feel you want to create. It's time now to use our wide, unmatched selection in interior designer doors to find the best match.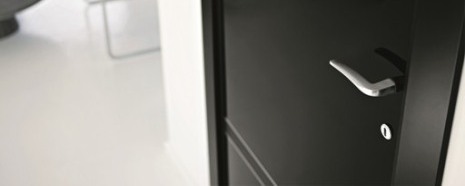 We offer a range of options, so depending on the style of your interior you can find many different statements worth articulating. Deciding on a modern interior door for example, still leaves you with many additional details to consider. Do you want a high-gloss red door, a white door, a paneled door, a jet black door with a tough, clear shine or maybe something unique – like white gloss, offset with soft teak accents, or something using glass panels? Just tell us what you think is best – we'll help you put it together.

Looking for a wood grain? You're in luck, for our contemporary designer wood grains offer something truly special to behold. Using only eco-friendly Italian materials like high-end European furniture makers, we have options ranging from the open, workable faces of oak and the traditional appeal of walnut, to the denser warmth of the newer exotics, promised by the likes of wenge or teak. A designer interior door allows you to be picky – in fact, we encourage it.
And if your door needs some glass panels, a pocket door application, or other specific accent work inlaid, you are going to be pleased at the selection. As always, if you can't find exactly what you want, you are encouraged to consider special ordering something to your specifics. Put our experience to work for you.
From the simply stated to the bold, our designer doors keep you in charge of your interior design.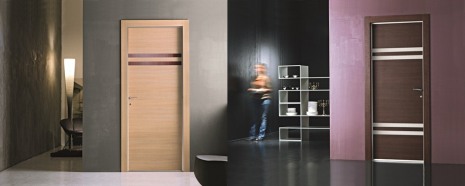 All door models are sold as pre hung interior doors with a knock down frame and molding sets.
Every door comes prefinished and ready to be installed at your project site. There is no need for further treatment of the slab, frame, or molding surfaces.
Every interior door set is priced according to the door width and includes the following components: slab, frame, levers, 2x molding sets, 2x pivot hinges.
Door measurements conform to American standards with a standard height of 6'8" and widths of 24", 28", 30", 32" and 36".
Custom interior door sizing is also available upon request, quoted on an individual basis.