When it comes to selecting the right type of cabinets for your kitchen, bathroom, or any other space in your home, there are many factors to consider. One of the key decisions you will have to make is whether to go for framed or frameless cabinets. While both types of cabinets offer unique benefits, the choice you make will depend on your individual needs and preferences.
FRAMED CABINETS
Popular in the American Market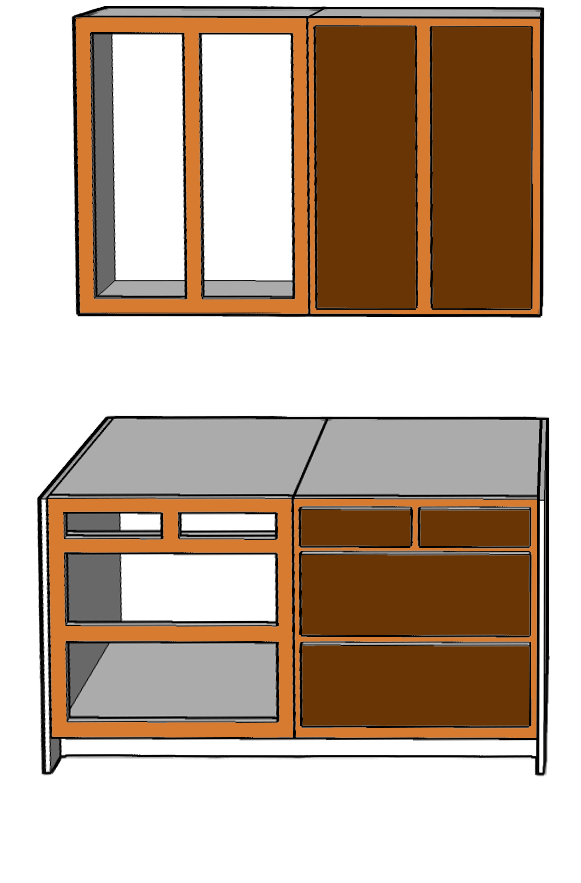 Framed cabinets have an extra overlaying structure or frame on the front of the cabinet box (light brown in the picture).
The door (dark brown) is connected to the box using hinges that are installed on the cabinet frame. Older framed cabinets have much larger gaps between doors & drawer fronts where the face frame on the cabinet box is visible.
In the US cabinet market, framed (aka face frame) cabinet construction is the most popular method and uses a solid hardwood constructed frame on the front/face of a cabinet. The cabinet overlay creates a sturdy structure and can be paid with a variety of door styles.
Face frame cabinets are generally made with solid hardwood face frames and plywood for the remaining cabinet components.
These cabinets can either be naturally finished to showcase the beauty of the wood or painted/stained to any number of decorative colors to match the style of your home.
FRAMELESS CABINETS
Popular in the European Market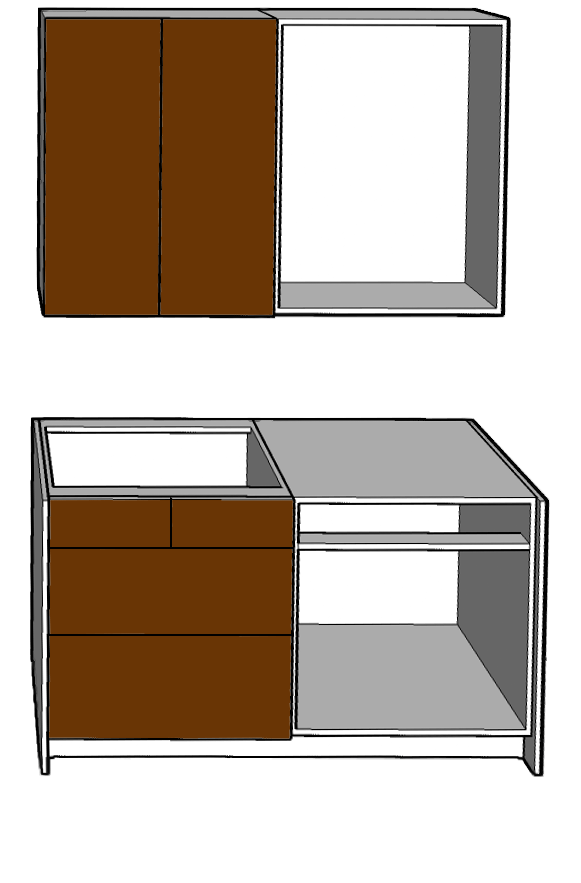 Frameless cabinets do not have an additional face frame.
The door (dark brown) is connected directly to the box cabinet with hinges installed on the box. They are also known as full access cabinets, with no divider between pairs of doors or drawers when open.
Even though face frame cabinetry is the most common in the US, there is a large part of the market that builds frameless cabinets. What sets these apart from frame cabinets is there is no face frame on the front of the cabinet. This creates a sleek look when opening the doors and drawers.
Frameless cabinet options are generally constructed using melamine board with edge banding or veneered/laminated plywood.
These cabinets are typically painted or stained to match the style of your home.
Note: It's possible to replace doors on a face framed system, however it is not possible to close the larger gaps where the face frame on the box is visible.