How are our interior doors different?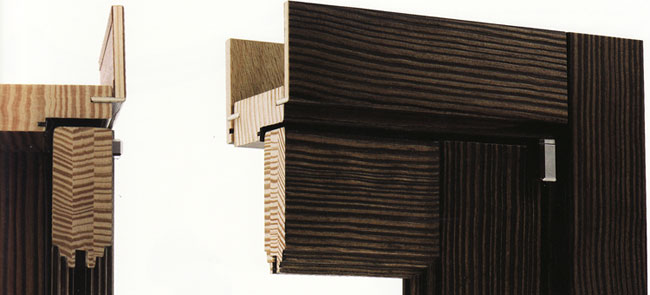 Below are a few facts about our interior doors:
Prefinished doors - ready to be installed
All doors in our collection come prefinished and ready to be installed at your project site. There is no need for further treatment of the slab, frame, or molding surfaces.
All natural eco-friendly wood veneers
All of our doors are manufactured with all natural wood veneers coming from environmentally managed forests and being certified as eco-friendly materials.
NO honeycomb/paper filling inside
Honeycomb/paper filled doors are light and thus lack the heavy feel every high quality interior door must posses. 27Indigo interior doors are filled with recycled wood - environmentally conscious, yet uncompromising luxury.
Jambs and molding set included
Every interior door set includes jambs and molding corresponding to the model. Jambs and moldings are manufactured with same high quality veneers as the door slab.
Rubber sealing
All interior doors feature rubber sealing on the lock side of the jamb to ensure smooth door closing.
Self regulating jambs/Adjustable moldings
A simple, yet intelligent way of overcoming those situations when interior walls are thicker or curved for no reason. Our self regulating jambs allow for 3/4" regulation with irregular walls. For graphic details see our door specification.
Customize in many ways
Have a space which does not comply with standard measures?
You would like a different set of jambs or molding for your doors?
Send us your preferences for a custom door quote
Fast delivery
With our expedited manufacturing and shipping supply chain your interior doors can be delivered for a period of 5-6 weeks.
Glass inserts options
Whether it is frosted, clear, or colorful, we offer various glass options for our modern glass doors. Various glass thickness sizes are also available.
Transom decorations available
Door transom decorations are available with veneered or glass materials. Inquire with us and have our team develop a sketch of how your door will look.

View our interior door collection

The missing element - modern interior doors

Modern door hardware