How to order kitchen cabinets - 27estore.com
Below, you will find a brief set of instructions explaining the quick process of selecting, configuring and ordering your kitchen cabinets online through our website.
The process is consisted of the following steps:
1. Have a list ready with the cabinet sizes and their configurations.
2. Start the ordering process by navigating to the approriate cabinet category.
3. To the left side in each cabinet category you can filter the cabinets by selecting the required cabinet width, height and depth.
4. After specifying the required measurements, look on the right side for all available cabinet configurations and select the desired one. In this example, we will go for a Base Cabinet 27" wide for 2 doors and 1 drawer.
5. Once you are on the cabinet configuration page you will be able to configure your cabinet. The options available for selection are listed right under the product picture to the left.
- Toekick - cabinets with Toekick are 34.5" high and the ones without are 30.5" high.
- Cabinet Color - this will be the color for cabinet box inside.
- Adjustable Shelves - number of shelves inside.
- Cabinet Door Finish - there are 5 different groups of cabinet door finishes which can be revieved by clicking on the Group A throug E navigation button located to the right of the product picture. Selecting cabinet doors for your cabinet, automatically adds in the required number of hinges to the order. Cost of hinges is included in the price for the cabinet doors.
- Drawer Boxes - there are several different options for the drawer box inside the cabinet. Each drawer finish is avaialable to order with or without SoftClose function drawer guides.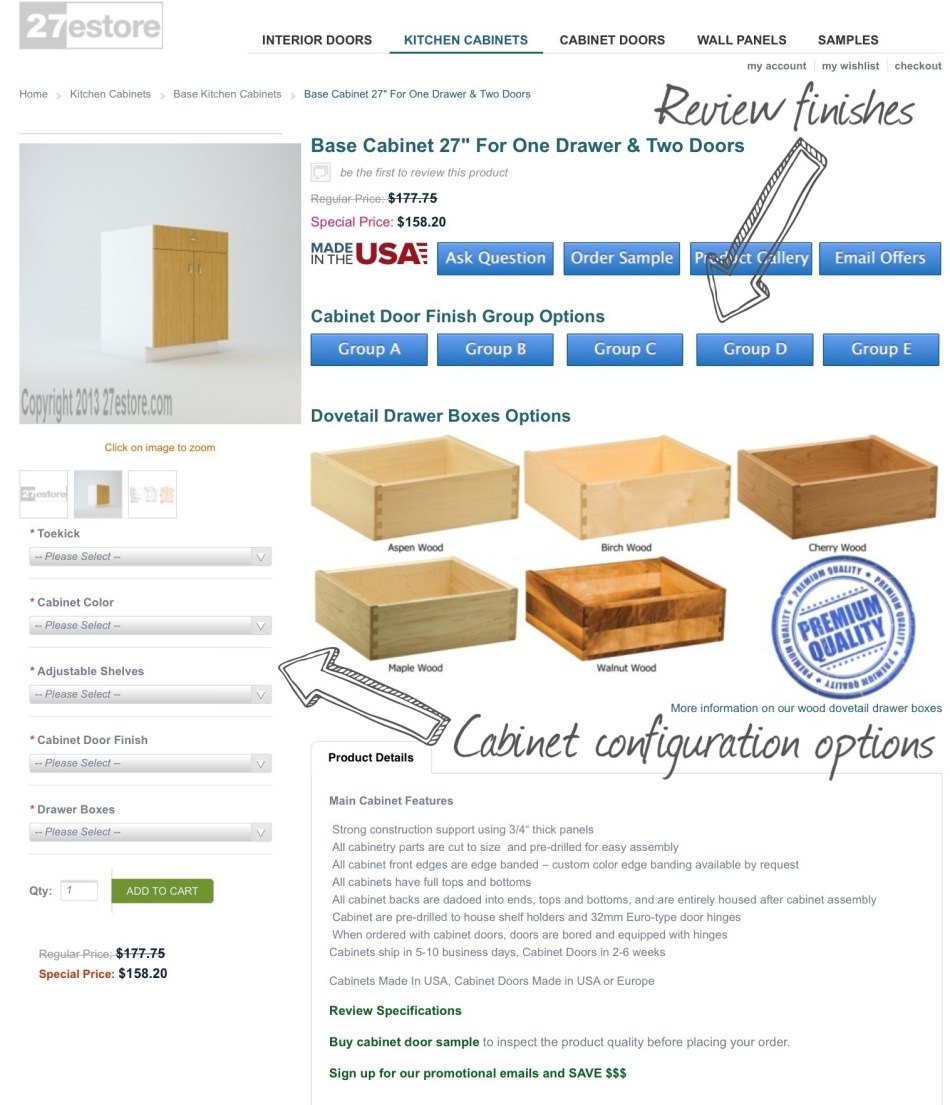 6. When all cabinet configuration options are in place, you can proceed with adding the cabinet to your shopping cart. An updated total right under the Add To Cart button will be showing the total cost for the cabinet.
7. After adding the cabinet to your shopping cart, you will be navigated to the shopping cart page where you will see updated total for your order including any applicable discounts. You can continue with adding additional items or proceed with the Checkout process.
8. After receiving the order in the system, we will contact you to find out about the particular finish from the selected group and the grain orientation preferred. At that time you can also order any additional items which require custom sizing such as filler pieces, light rails, end panels, toekick cover boards etc. Then we will email you a document acknowledging these specifics for your review and confirmation.