Home renovations come in many forms. You can completely gut a space and start with a blank slate. You can add new decor items or change the paint color on the walls. There is now another way to renovate your home, and that is using slat wall panels. Slat wall panels add beauty and functionality that a simple coat of paint cannot accomplish. They are visually appealing and made with environmentally friendly materials, and they offer help with the acoustics in a room and sound buffering, to name a few. With multiple benefits to slat wall panels, it is essential to consider how they can improve your spaces before starting your renovation journey.

Ease of Installation
When you choose our slat wall panels, besides noting the beauty of the various options available, you will want to understand the installation process. If you are worried that the installation process is complicated, let us put your mind at ease. The slat wall panel design incorporates interlocking pieces. These interlocking panels help keep the wall panels together and help keep them more firmly in place. This property is essential if you plan to mount your TV to the wall, hang framed art or photographs, or if you want to place floating shelves around a room.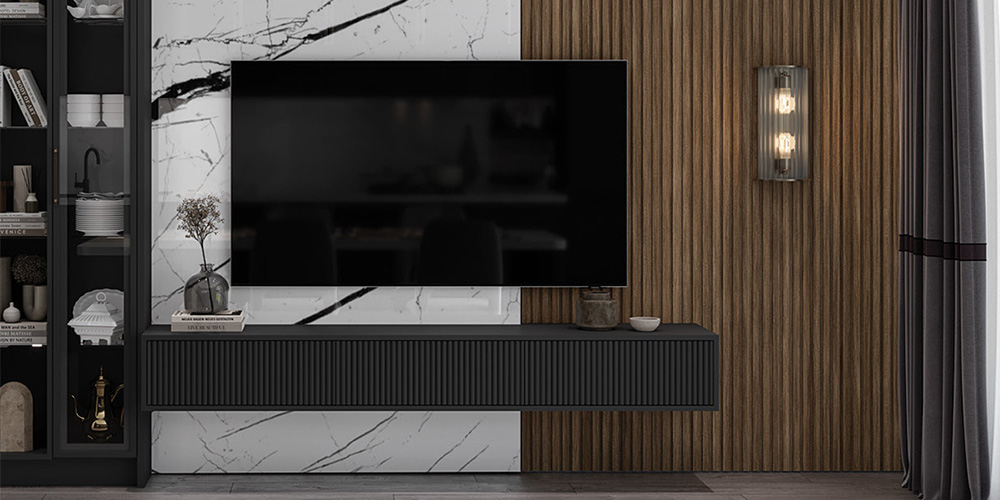 How are the slat wall panels installed? There are two main options. The first option is to screw the wall panels directly into the wall. Screwing the panels into the wall further enhances their strength when properly installed. The other option is to install the panels with batons. When opting to install with the batons enhanced sound buffering occurs. Both options ensure the panels stay affixed to the wall until they are no longer desired for the chosen design aesthetic.
Features and Upkeep
When it comes to these slat wall panels, they do not lack in their craftsmanship. It is important to note that environmentally friendly materials are the basis for the construction of these panels. Not only are they beautiful when installed, but the environment is also considered when sourcing the materials. The panels also offer a number of features. They are easy to clean and maintain, which helps keep them looking brand new. For people who are not interested in the hassle of cleaning, wall panels like these are an excellent choice. Additional features include a UV-resistant coating along with being scratch-resistant. All of these features help to maintain the initial integrity of the panels following installation.

Beauty, Functionality, and Variety
Once you have confidence in the installation process, it opens up the fun side of using slat wall panels in your interior design. We offer a variety of colors and styles. The slat wall panels come in the following options: natural oak, teak, walnut, satin white, earth grey, and aluminum grey. In addition to the various wood finishes, these slat wall panels come in different sizes and shapes. The traditional slat panel designs are available in the following sizes: a half-inch, one-inch, and one-and-a-half-inch.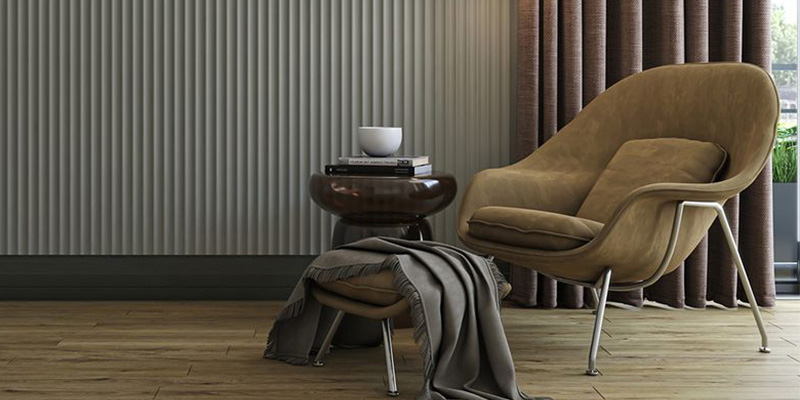 Do you want to add something more unique to your space? Does using the traditional square-shaped panels not fit your design style? If you prefer something non-traditional, you can also get slat panels that are fluted or wavy. The fluted panels have a rounded edge, whereas the traditional slat wall panels are square. When it comes to the waves slat wall panels, they do have a subtle wavy appearance. All of the slat wall panels come in packages of four. Having four wall panels in a pack simplifies ordering the proper number of wall panels for your project.
You can guarantee that your design options are not limited when using these slat wall panels in your home. When you use these slat wall panels in your home, your design options are not limited. What is the current design style of your guest bedroom? Have you ever thought of transforming it into a beach or coastal getaway? If the answer is yes, now is your chance. You can utilize the white waves slat panels to go an extra step to create a beach feel to the space. Consult with the salesperson and see if painting the panels is a possibility. It may be an extra step, but you could paint them in ocean colors to create the illusion of actual waves in the space.

Do you love the idea of a headboard for your bed? Do you have an existing headboard that you love but you want to add an extra touch? Consider ordering our slat wall panels to create a faux headboard on the wall behind your existing bed. The slat wall panels will add a touch of color and interest to the space. If you use a darker wood, such as the one-inch slat wall panels in walnut or earth grey you will create a feature wall in your master bedroom.
Acoustics & Sound Buffering
Do you have a problem with people in your home being too noisy? Do you wish that you could soundproof or at least buffer the sounds passing between one or more rooms of your home? Some people choose to use rugs to help with excessive noise, but that only offers minimal help. Window treatments are another option that can help with noise reduction, but ultimately you want something more durable and effective.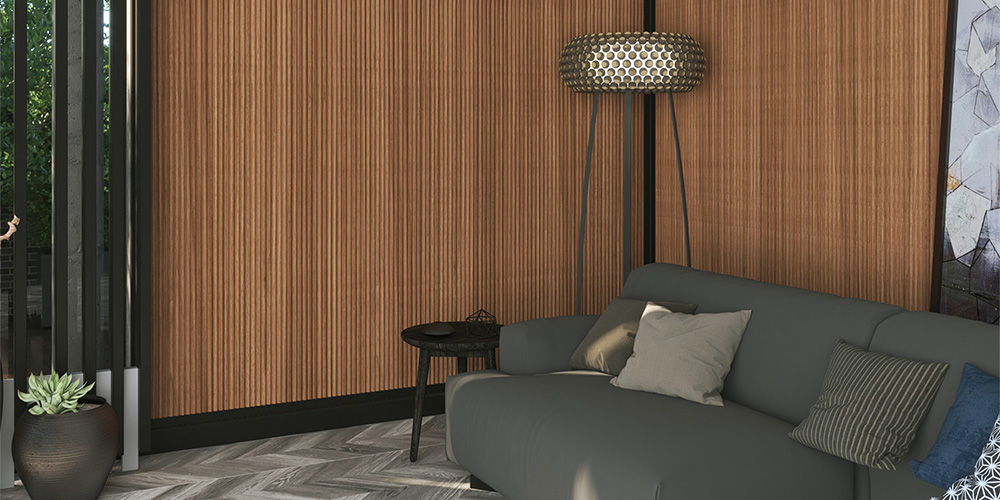 In most cases, changes to the physical walls are the ideal option. However, making such changes can result in an extremely expensive construction project. Furthermore, if the cost is not an issue, you might not want your home to become a construction site due to hiring professionals to fix your walls. What other option do you have to help with sound buffering? The answer is simple, slat wall panels.
As aesthetically pleasing as slat wall panels are they offer additional benefits to users. One of these benefits is the ability to decrease the booming sounds of music, televisions, stereos, and other loud sounds created by people. How can the panels achieve such a goal? It is a combination of the felt backing and the additional layer of wood the panels possess, which helps with sound absorption.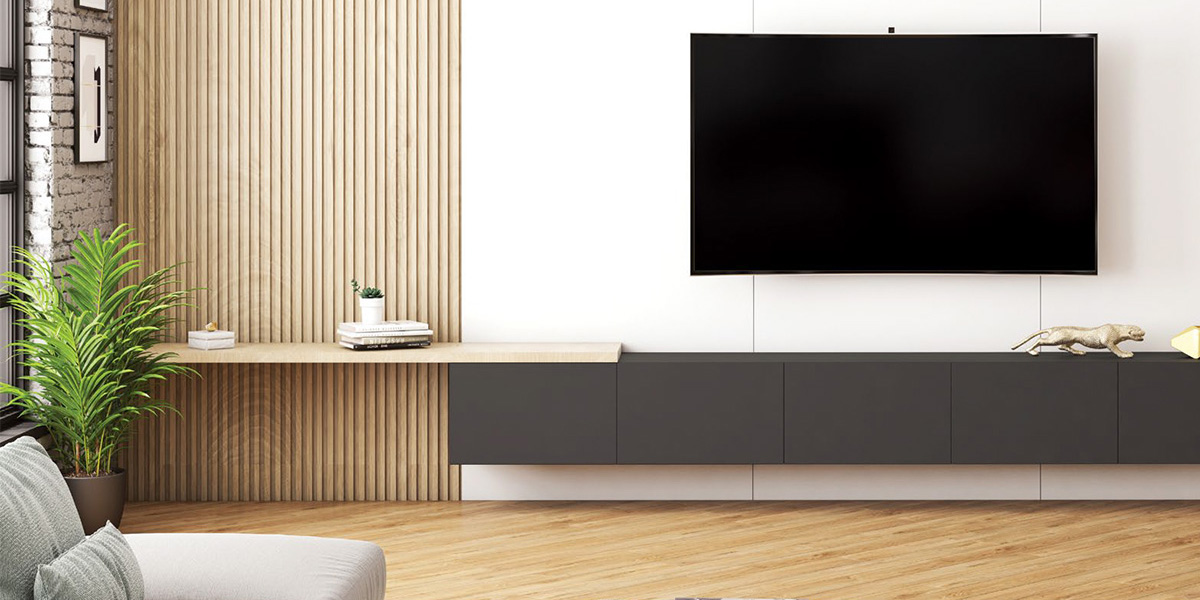 When used in a room with music in mind, the slat panels can help with the overall acoustics. People who play instruments, sing, or mix music find that installing the panels on the walls and even the ceilings experience better sound quality. You can build the perfect home music studio by adding any of the various slat wall panels available. Now that you have the information regarding this particular type of wall treatment you can see why so many people choose to use it.

Versatility, Beauty, Ease of Installation & Maintenance
These slat wall panels are a decorator's dream because of their versatility. Their varied sizes, colors, and shapes allow them to be used effectively in every room in the house. They are easy to install and maintain, have help with sound absorption, and have a stunning appearance. For those with environmental concerns, sustainable materials are the source material for these panels. They are among the best new items people use to remodel their spaces. Do not miss the chance to research how your home can benefit from their use.