Q&A - Kitchen and Bathroom cabinet doors
How can I get a quick estimate for my order?
The quickest way to get a quote for your order is to email us with your drawings and dimensions at [email protected]
How does the ordering process works?
You can email us at [email protected] or call us, 702-947-2293, and provide all cabinet doors sizes and we will prepare a quote for your order within 1-3 business days.
What is the color on the back of the doors?
Some finishes come with matching back, yet others come white or black color back. If you have a particular finish you are interested in, please contact us to find out what are the options for the back color?
Are all 4 edges matching?
Yes, all cabinet doors come with matching edge-banding.
Is edgebanding material easy to peel off?
No, the application of high-end materials and manufacturing equipment ensures that the edging is firm and built to last.
Are the doors drilled for hinges?
We can drill the your cabinet doors for hinges if requested. Our standard boring pattern in shown below. In the event that door panel is over 36", we recommend having a 3rd bore in the middle. If door panel is over 72", we recommend 3rd and 4th bore spread evenly from the top and bottom bores.
If the drill pattern below is not suitable for your hinge application, you can email us your preferred boring pattern and we will work with it.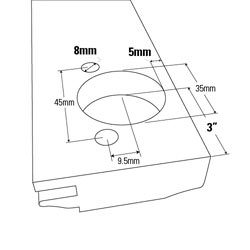 What is the lead time?
Lead times vary with every finish. Information about the lead times for every finish can be found on the product page or by contacting us
How much is the shipping cost?
Shipping charges vary based on the destination and scope of the project. Our trade discounted shipping accounts give us the flexibility to offer low shipping rates to our customers normally at 60% below regular shipping charges. Also, orders over $7,500 ship free anywhere in the United States.
Is it all standard measurements or you can manufacture custom sized cabinet doors and drawer fronts?
All cabinet doors are manufactured according to customers specifications with accuracy to the 1/16th of an inch. There are no limitations as to the variety of door sizes that can be ordered in a single order. 12-5/7"x34-8/9", 14-9/16"x25-11/16", etc. - you call it, we make it.
What is the largest cabinet door you can make?
The largest single slab cabinet door we can manufacture is 96" high and widths can go up to 48". Please note cabinet doors widths over 24" are not recommended unless special hinges application is being used.
Can these doors be used for closet or furniture?
Yes, especially when finished on both sides, our cabinet doors and drawer fronts can be used on high-end pieces of furniture and closet projects.
Can I order matching toe kicks for my base cabinets?
Yes, we can supply to you toe kick facing finished with the same wood veneers as the doors to ensure complete match.
Still have questions about our cabinet doors, feel free to contact us.

Return to our kitchen and bathroom doors

Why replacing your cabinetry doors