Interior Transom Doors: The unique, modern look we're all used to
Contemporary interior design often calls for something unique, and our interior transom doors are a perfect answer. A modern look with decidedly classic overtones, a transom door opens up some wonderful options in balancing your design.
We offer you a variety of ways to consider a transom interior door. Using a pane of frosted glass, you can really work with the natural lighting offered by your space, but remain subtle. By carefully choosing a wood that offers you the right colors and appeal, you can dictate the way this door opens up and breathes life into your interior.
An interior door with a transom from our selection guarantees that you will have a door that will stand the tests of time. We never use honeycomb construction or other shortcuts you may have seen elsewhere – with details like a solid hardwood frame for easier installation and hand-selected, eco-friendly materials, our interior transoms are built to last: they're built to use.
Create the look that shines. We have found that in some spaces, a nice, simple solid color is the best way to bring out more of the architecture and interior design. We select specific materials to achieve this effect in our transom interior doors such as the versatile look of treated oak, the warmth and familiarity of walnut and mahogany, or the exotic flair offered by wenge or zebrano wood. The individual characteristics of these woods can also be blended in balanced patterns, such as a dark wenge door with a striking pale oak accent, or panels of off-setting, matched grains in a checkered pattern.
Transom interior doors might have complementary frosted glass panel accents, or they might leave all the light to come from above. The designs of our interior transoms create flexible ways to bring out colors and feng shui in your living or work areas. The perfect accents to any contemporary interior design, these doors are also smart improvements to a classic approach.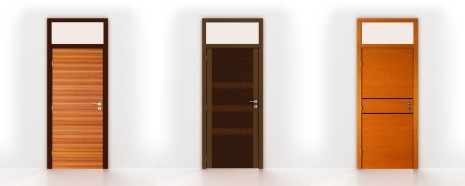 Elegant and familiar, yet still an original and exciting way to bring in more light – a transom interior door leaves you in charge of creating a balanced, functional look.
All transom door models are sold as pre hung interior doors with a knock down frame and molding sets.
Every interior transom door comes prefinished and ready to be installed at your project site. There is no need for further treatment of the slab, frame, or molding surfaces.
Every transom interior door set is priced according to the door width and includes the following components: slab, frame, 2x molding sets, 3x hinges.
Custom interior transom door sizing is available upon request, quoted on an individual basis.