Think about the kitchen in your home. What do you use it for? The chances are fair that you are making a list in your head. The kitchen is intended for cooking, but in reality this is not all we do in the room. Kitchens are now the very center of our homes. We use them to eat, to cook, to do paperwork, to do craft projects, to share a glass of wine or to gossip over coffee. Everyone in the family gravitates towards the kitchen. It is such an important part of the home, that it deserves some serious love and attention when it comes to both design and décor.
With this in mind, we asked a number of interior designers from across the country how important interior design is in the kitchen. Renae Keller of Renae Keller Interior Design Inc told us, 'I think it is very important to make the hub spaces work the most efficiently. This is where success is gained throughout the whole interior design process. Materials are so important in this decision making process and need to be all what the client would like, and aesthetically pleasing and work with the palette.' While Jenna Pizzigati of Pizzigati Designs said that because the kitchen is where a family gathers it is every bit as important as a master bedroom or the living room.
Lila Levinson of Accent on Design also added that when it comes to the kitchen there is a very real need to have a functional and well organized space that is also relaxing. 'This is the hub of the home and most people spend more time in this room than any other except the bedroom. It is where we are first thing in the morning and sets our mood for the day so it should be uplifting,' said Lila. 'It's also one of the last places we are in at night before retiring so it should be a soothing room - not disorganized and stressful.' This is something that was echoed by Kimberley Ward of Kimberley + Cameron Interiors. 'I eat better when I am in a well organized, easy functioning kitchen,' said Kimberly.
So we all agree that the kitchen is deserving of some attention when it comes to décor, but what sort of trends are designers seeing for the year ahead? Sarah Cain of Sarah Cain Design told us that the key thing about the year 2013 is technology which reflects the busier pace of life we now lead. 'Many convenience features have emerged in kitchen design, including Drawer technology, used for refrigeration, microwaves and wine storage allows for flexibility by placing these smaller appliances through out the work environment creating convenient zones within the kitchen. Using a variety of materials throughout the space will create good visual interest as well,' said Sarah. This was also something that Renae Keller picked up on. ' Long gone are the days of white cabinets with one material for the counter,' said Renae. 'Here we go with multiple finishes on cabinets and different materials for counters and back-splashes. Even with cook-top hoods....plaster, wood, metal are all becoming popular.' Renae also mentioned the incorporation of technology with built in appliances including refrigerated drawers and under the counter microwaves.
Kimberley Ward also agreed with Sarah's thoughts on mixing materials. 'One trend that I see continuing in Kitchen design is the mixing of colors and decorative elements,' said Kimberly. 'We've long since moved from having all the furniture matching in other parts of the house. Now you will see it more in kitchen design. Look for cabinets where the top and bottom cabinets are different as well as kitchens where the island no longer matches the other kitchen cabinetry.'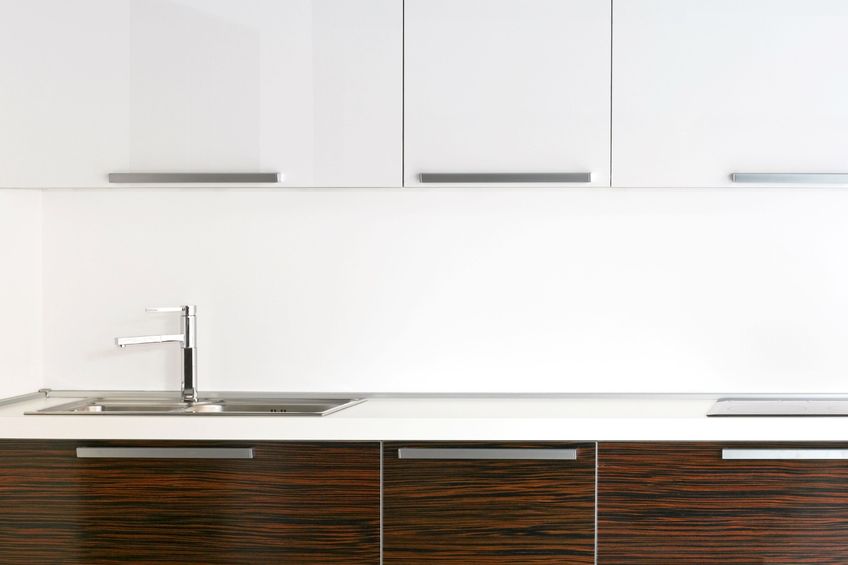 Mixing materials, clean lines, smooth surfaces are all trends that have been identified by designers.
One thing that all of the interior designers agreed on was that materials are important. For Lila Levinson this is about convenience and durability. 'My clients are tending toward simpler lines and good hidden storage. They also want smooth, easy to clean surfaces so the maintenance is not a chore!' While Jenna Pizzigati highlighted a need for sustainable materials, something we are also passionate about here at 27estore.com. All of our wood comes from environmentally sound sources. Jenna told us that when looking for cabinetry she is says that ' Sustainable material, color and durability are typically my top priority.'
With materials in mind, we wanted to know if there was a particular preference in terms of the finishes the designers choose for kitchen cabinetry. Kimberley Ward says that it is a case of seeing what works in the clients home, but admits to having a soft spot for darker wood finishes. Sarah Cain is also a fan of dark wood finishes, especially as an accent. ' I often mix the wood finishes in the kitchen for visual interest and depth. If there is an island than this might be the place to add a bit of drama with a darker tone of wood, says Sarah. Renae Keller says that her favorite finish at the moment is 'painted wood mixed with a dark wood finish'. It seems that for now, the darker tones are definitely coming out on top! That is something we can certainly relate to as our Walnut and Wenge Wood finishes are among our best sellers.
To round up our interviews we asked the interior designers to share with us a favorite tip for creating a fantastic kitchen. Renae Keller decided to share a Kiss! ' I had a professor in college that always said, "K. I. S. S.".....Keep It Simple Stupid. And it is true. You can't have something try and be too many things. So, Keep It Simple Stupid [don't tell my kids that I said that]....There is only so much one thing [whether it is an island or table, or workspace] can do for you,' said Renae. Lila Levinson remind us not to forget the importance of good lighting. 'One of the most important things is to plan good lighting, which means proper placement as well as layers of lighting. Today's codes dictate more energy efficient products be used than in the past and the manufacturers are coming up with more attractive Fluorescent and LED options. The new LED products are getting better and cheaper all the time,' said Lila.
LED lightning options are becoming more and more affordable. Photo courtesy of Hafele.
Kimberly Ward advised us that the key to a great kitchen is organization. 'I love highly organized kitchens. Kitchens that fit the home owner like a glove. I am working on a project now where the kitchen is extremely small. It's important that that space still feels luxurious,' said Kimberly. 'The home owner does not want to skimp on quality and is willing to pay more to have the built in features that will make it function for her lifestyle.' Sarah Cain agrees that organization and planning is important in the kitchen. 'Getting the layout right will greatly affect the experience of working in your kitchen every day. With this in mind, I recommend that you spend some time thinking about how you and the other members of the household work in the kitchen and then layout the appliances and work surfaces to support those roles,' says Sarah. 'If it is a team effort, then think about the overlapping activity zones and make your decisions based on the most efficient use of space. The placement of your appliances and sink(s) will need to flow from these decision points.'
Jenna Pizzigati shared with us a tip that brought us full circle to the initial point we wanted to make about the importance of good kitchen design. 'My top tip would be to design your kitchen space in the way you always dreamed of and do not cut yourself short of your wants/ desires or needs. Again it is the hub of everyone's home, a place where you spend most of your time and should be treated as such,' said Jenna.
–

We would like to extend our gratitude to Renae Keller Interior Design Inc, Pizzigati Designs, Sarah Cain Design, Accent On Design and Kimberly + Cameron Interiors for sharing their valuable expertise and advice with us.