In previous features, we have touched on the importance of design when remodeling an existing kitchen, but what about when building a brand new home? There are many considerations which come into play when planning a kitchen as the initial layout will most likely have an impact on any future remodeling work in the years to come. We talked to some experts in the field of both construction and real estate in order to gain some insight into this aspect of kitchen design.
Making The Most Of Available Space
One of the most common complaints homeowners have at the moment in regard to modern homes is that they have much smaller rooms than older properties, especially when it comes to the kitchen. However, this need not present a problem when creating a functional kitchen.
Todd Vendituoli of HomeCentrl told us, 'there are many factors involved but generally its not a problem as there are so many choices today. If you look to the European market, where space is smaller, smaller kitchens can be designed to be efficient and stylish.' Todd advocates the use of the European style frameless kitchen cabinetry as a way to make the best use of a smaller space. 'When dealing with smaller spaces, every advantage that you can take to make the best use of that space is helpful. I do see frameless cabinetry as a way to maximize and provide a great design for these smaller kitchens while offering the best storage possible.'
This is something that Gehman Design Remodeling also agree with. Company president Dennis D. Gehman says, 'anyone can design with lots of space, the best designers are needed for small spaces. Because everything is close, when laid out well, small can be very efficient. Maximize counter work surface and storage space. Use a range rather than a cook top with separate wall oven(s). Keep the sink base cabinet as small as possible. Wall cabinets to the ceiling for added storage. Drawers tend to keep things more organized than shelves behind doors.' Dennis also added that, 'Very few people will realize the extra square inches of storage in frameless cabinets compared with traditional framed cabinets. I prefer framed cabinets because they are stronger and easier to install.'
Dennis Gehman suggest wall cabinets to ceiling to utilize max storage.
Contemporary Design Features
Contemporary design is certainly something which is important to homeowners today and the European style certainly provides that. Dennis Gehman offered us his thoughts on kitchen design. 'Light and airy, functional and homey / comfortable. These terms mean different things to everyone which is why Kitchen design becomes so personal,' said Dennis. 'Clients know what they like but they aren't usually able to communicate their thoughts / ideas, therefore, good designers will ask lots of questions to draw the answers from their Clients. Maximize counter work surface and storage space.'
When it comes to choosing cabinetry for a new build, there are a number of things that construction professionals look for. Todd Vendituoli indicates that whenever he is choosing cabinetry for any project he looks for quality in both the materials and the hardware. 'Quality products offer the best long term value even if they my cost initially more,' says Todd. Dennis Gehman also prizes quality above all else. He states that although most of his company's work is remodeling work they do often strip kitchens all the way back to the framing. 'I look for an all plywood cabinet box with solid wood face frame, doors and drawer fronts. For the most part labor remains the same no matter the quality or cost of the cabinets so the step from stock to semi-custom or full custom cabinets isn't all that much. Hinges and drawer slides are the moving parts which need to be top quality to hold up for the long run,' says Dennis.
The Impact Of Kitchen Design On Reselling
When it comes to reselling your home it is generally accepted that larger kitchens are more desirable, but that does not mean that your home is a lost cause if your rooms are on the small side. DD Flynn of Prudential Texas Properties shared some valuable advice with us. 'Like with most things in real estate (and life), you have to enhance something in a positive light to deflect from a potential negative. Ensuring that the kitchen is updated with good quality appliances, cabinetry, and flooring ensures it's still appealing. If a buyer sees beautiful, well-crated cabinets or lustrous flooring, they are much more likely to forget about the smaller size.'
It is essential that your design choices do not reduce the value of your home, your personal taste may not appeal to everyone and that is something you must keep in mind. This advice is something that Edie Israel of The Edie Israel Team also suggests. 'Stay away from short-lived trends when dealing with updates to your kitchen. We've seen home owners who've spend a plethora of money on kitchen updates only to see them discover nobody has the same eclectic taste. Keep in mind tried and true classics - high-quality and neutral always works and will for years to come,' says Edie.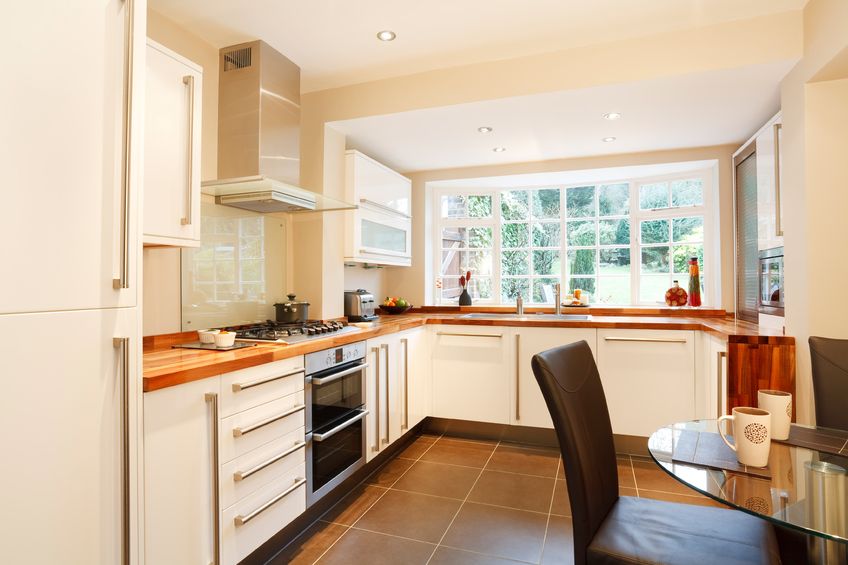 High quality materials and clean design are the best way to go according to
real estate resale expert Edie Israel.
Edie Israel goes on to discuss whether or not a full refit of the kitchen is necessary when seeking to raise the resale value of a property. It is often possible to simply update the existing units with new cabinets doors, again it is all about presenting your kitchen in the best possible light. 'It really depends on the condition of the kitchen, but regardless, updated cabinet doors make a world of difference, and often aren't as costly as other upgrades. If you can't take on a complete refit from a financial standpoint, updating doors and hardware is a great contribution and will ultimately bring positive light to the kitchen,' says Edie.
We have always believed that the kitchen is one of the most important rooms in any home, and according to those in the know when it comes to selling a property the kitchen can have quiet an impact. This is true regardless of whether the home is being sold on by a previous owner or is a new build property being put on the market for the first time. Smart choices are necessary in order to make the most of the kitchen.
–
We would like to extend our thanks to the experts who contributed their thoughts and expertise on this topic. You can find out a little more about them below.
Dennis Gehman is a Certified Kitchen & Bath Remodeler (CKBR) and president of Gehman Designs Remodeling.
Todd Vendituoli has been self employed for most of his life as a Building contractor and is now self employed within the social media field. He also writes and owns- HomeCentrl.