There are many ways to change the interior design of any room in your home. One of the most common techniques people use to make a change is through the use of a new color paint palette. A room can be changed to either have a lighter or darker look. In some cases, people will use a bold color on one wall as an accent or focal point for the room. Aside from the color paint you put on the wall, there are other ways you can alter your room's interior design. One way in which you can do this is by purchasing and installing new interior doors from 27estore.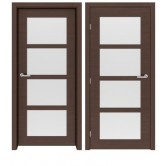 In most homes, the doors that come preinstalled are plain and have no character, nor do they add any sort of design element to your rooms. By purchasing any of the many doors available at 27estore, you will be able to add a new modern or classic touch to any room in your home. Bring some warmth and elegance to your home when you select doors with finishes that range from oak, mahogany, walnut, or ebony macassar. Not only can you add a new look to your room using the various finishes; you can add a new or fresh design element with the different designs available. Want to add more light to your room; try one of the many doors we have available with different sizes of glass panels. Glass panels allow the light to pass from one room to the other, brightening it up. You can also select the various patterns and directions you want the wood grain on your doors to go for an added touch of class.
Along with the beauty and warmth the doors at 27estore have available, they are also constructed of quality materials. All doors start with a solid slab overlaid with real Italian wood veneers. The doors available for purchase at www.27estore.com do not only add warmth and character to any room of your home, but they are also constructed in such a way that they will stand up to the heavy use of a busy household.