Whether you're simply replacing existing cabinets or planning a whole new layout, a kitchen renovation can be exciting – after all, you're breathing fresh life into what's probably one of the favorite rooms in your home. However, before you get too carried away with the project there's a few things to remember when placing your kitchen cabinet order that may make your project run a little more smoothly and prevent any sudden work stoppages.
Tips That May Help with Your Kitchen Cabinet Order
Seasoned DIYers who have several kitchen remodeling projects on their home improvement resume know that that there are little tricks and techniques that can make the job much easier and it often begins with the cabinet order. Here are four to keep in mind:
1. Samples – ordering cabinets online can be a great way to save a little money on your remodeling project, however, colors and finishes don't always appear the same in real life as they do on your monitor screen. If shading and hues are important in your kitchen design, it may be a good idea to order a few door samples prior to placing your entire cabinet order. One thing to remember: wood is a natural product and there may be some variation that exists even between the samples and your actual cabinets.
Ordering samples before placing an order can really help decide the right finish as well as
inspect the quality of the product.
2. Fillers – there are many standard cabinet widths available, but even with the numerous choices when planning your layout, there's still a pretty good chance they won't be an exact fit in your kitchen. If you look closely at your existing cabinets or those in any kitchen you happen to be in, you'll usually see that the installers used fillers when setting the cabinets to fill gaps at the walls and occasionally in the center of the layout. Fillers are normally available in the same finish as your cabinets and are made in standard wall and base cabinet heights. The trims are usually sold in widths from 2 to 6 inches and can be cut on the jobsite to the exact dimension needed. If your gap is larger than 6 inches, you may want to adjust your cabinet sizes.
Cabinet finish shown Bleached Oak Natural Wood Veneer, Birch wood dovetail drawer box
and white interior cabinets by 27Orange Kitchen Cabinets
3. Touch-up kits – even professional cabinet installers sometimes have accidents so that's why cabinet manufacturers often sell touch-up kits for their products. A touch-up kit normally contains stain or a stain-pen to match the finish on your cabinets and a filler crayon that is close in color to your wood species. Minor scratches incurred during your installation can often be covered with the stain so they won't be noticed and deeper gouges can usually be disguised by using the crayon.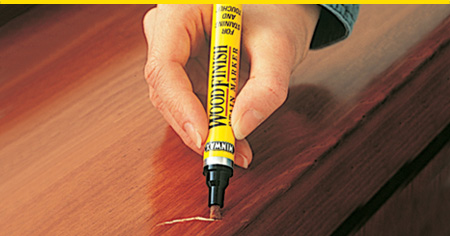 Touch-up markers come in handy all the time :)
4. Molding Pieces – finishing touches often make the difference between a good cabinet installation and one that looks great. Many cabinet manufacturers sell molding pieces in the same finish as their cabinet doors that can be installed at the top of the wall units to add a dash of elegance to your kitchen. The molding can be installed even if the cabinets don't reach the ceiling or a framed down bulkhead. Molding is normally available in several sizes to complement just about any interior design.
Molding pieces can add a nice touch to fine tune the overall appearance of the whole kitchen.
Finish shown Satin White by 27Orange Kitchen Cabinets.
Keep these four tips in mind when planning your cabinet order – they may help your DIY installation and could enhance the completed appearance of your kitchen.