Links for all new materials on the bottom of the article - Go There
Our Satin Smooth Finish collection brings something new to the cabinetry game. They are superior cabinet doors made of high-quality materials. In the initial cabinet door release, we afforded those upgrading their cabinetry with a variety of bright and cheery colors. A few shades on the darker side of the color wheel were also included.
The latest additions to our Satin Smooth Finish Collection come in a variety of neutral shades. These new hues range from light colors to darker shades. The vast array of colors allows for the perfect backdrop to any design style or theme.
When you are in the market for new cabinet doors, do not limit yourself to the basics. Choose any of the high-quality cabinet doors we have available in our Satin Smooth Finish Collection. Choose from the previously released color options or the new collection in neutral tones. Take a peek at the stunning new color options available for your cabinetry. The colors now available are:
Beige Satin Smooth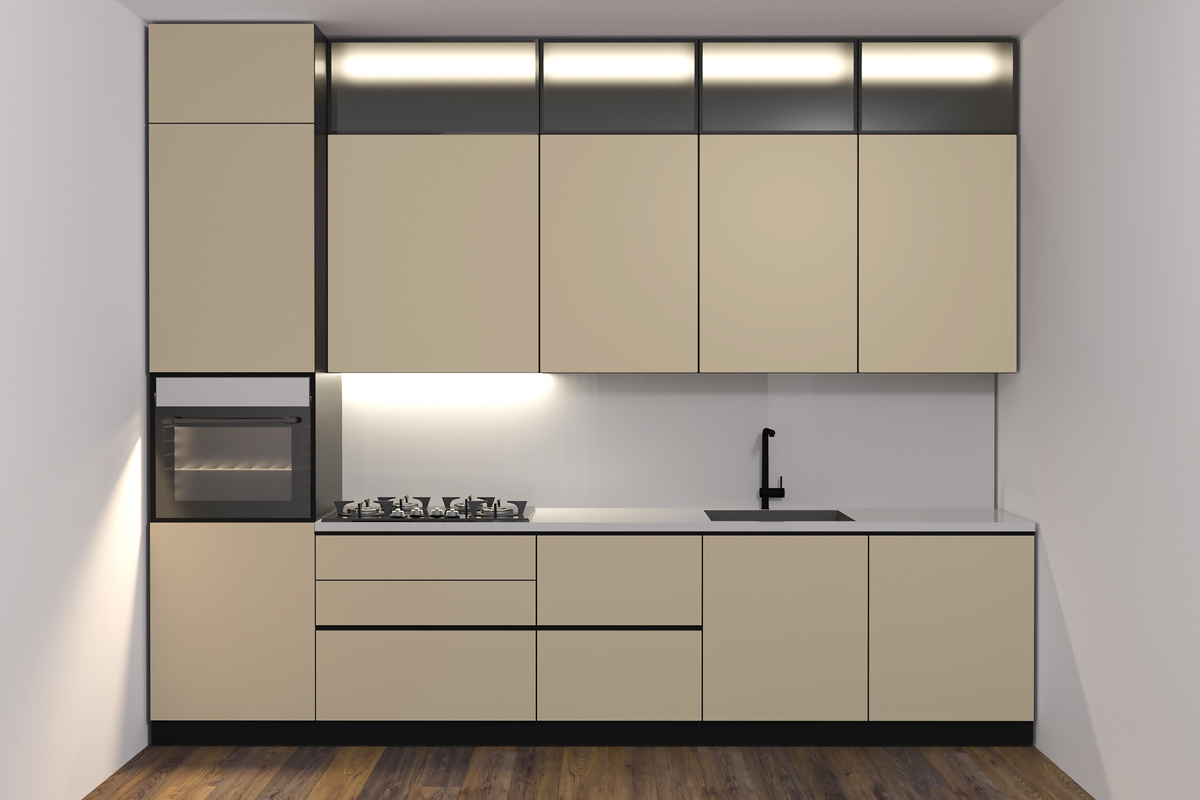 Our Beige Satin Smooth cabinet doors are the perfect option for someone with a small kitchen. Keep with a light color scheme or make the beige hues come to life with dark accents. Using black appliances, stovetop burners, and faucet makes both colors come to life. Dark flooring in your favorite type of wood prevents washing the space out with too many light finishes.
Slate Satin Smooth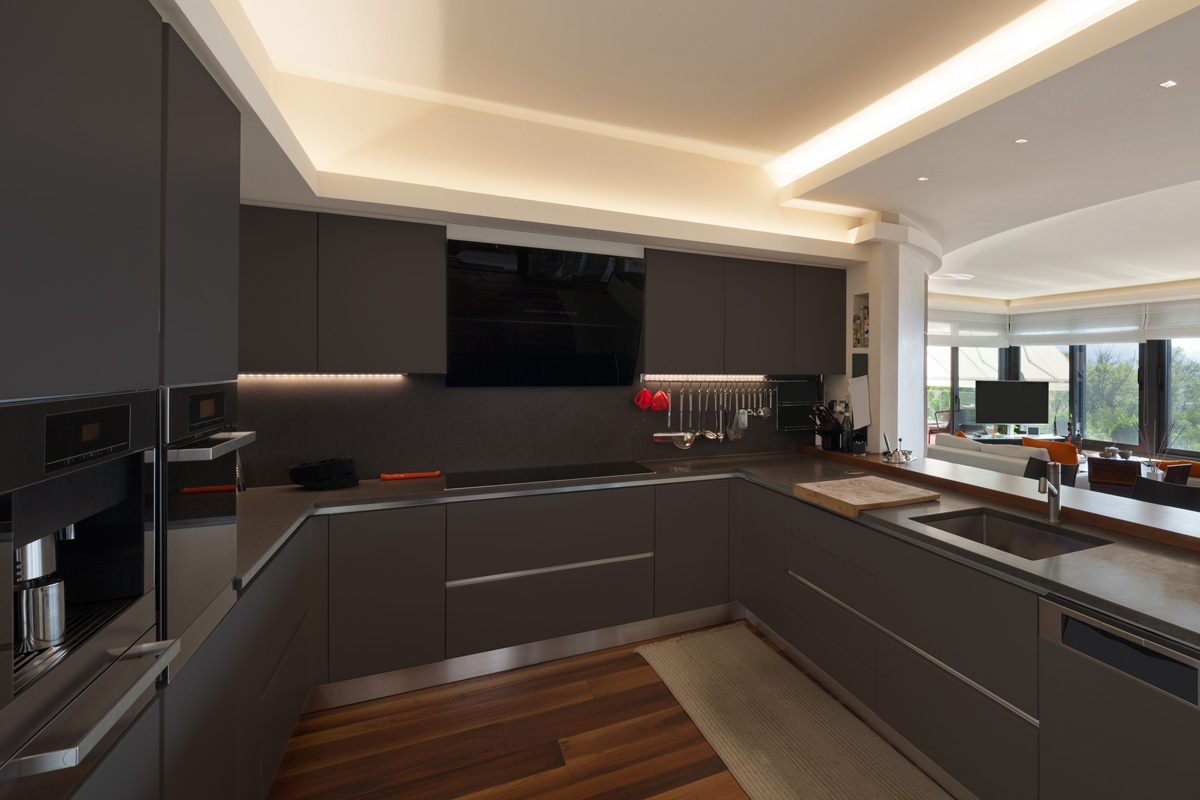 In this open floor plan home, choosing our dark Slate Satin Smooth cabinet doors serves multiple purposes. It creates a definitive kitchen space all while creating a beautiful focal point in the home. The dark tones are highlighted by under cabinet lights and stainless steel accents. The white ceiling with its abundance of lighting prevents the kitchen from feeling too dark and cramped.
Dove Satin Smooth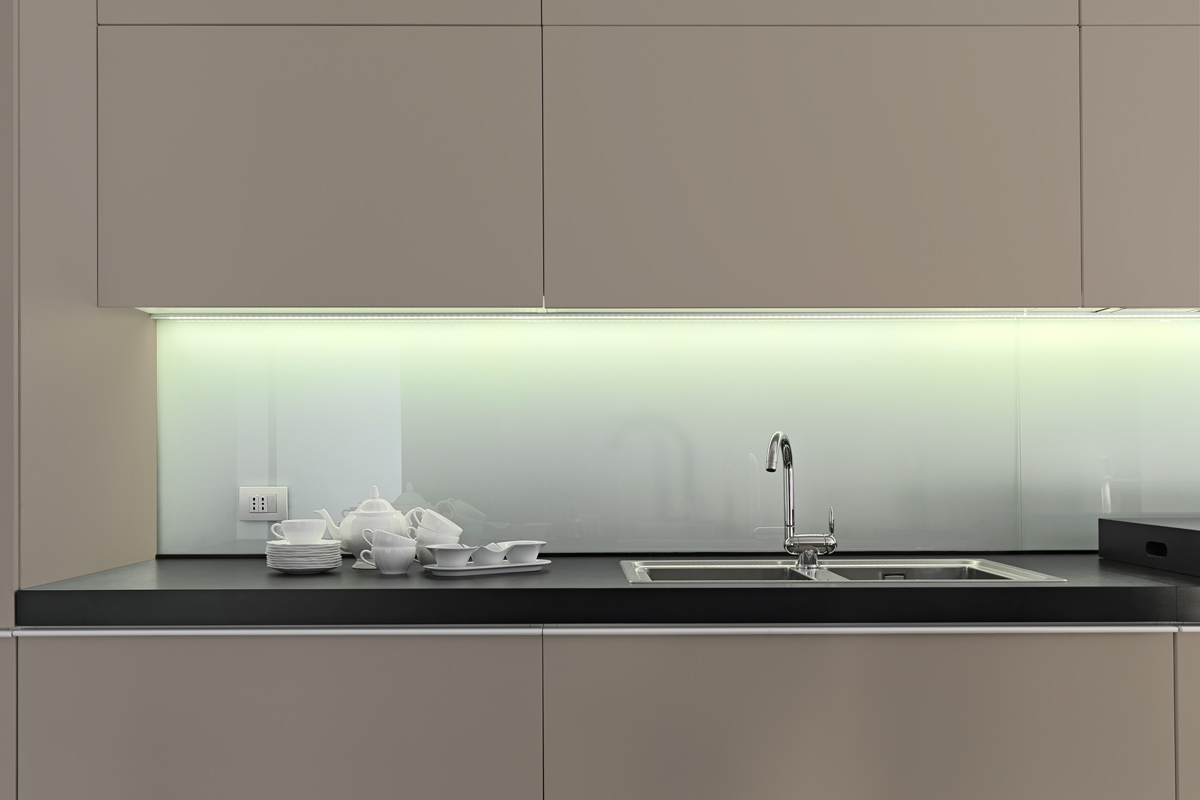 Neutral tones, such as our Dove Satin Smooth cabinet doors, offer a variety of decorative options. Stick with a kitchen design filled with light colors or add a bit of drama. The black countertops make a statement up against the light hues in the cabinetry. Adding a light backsplash and hidden under cabinet lights brightens the space.
Cream Satin Smooth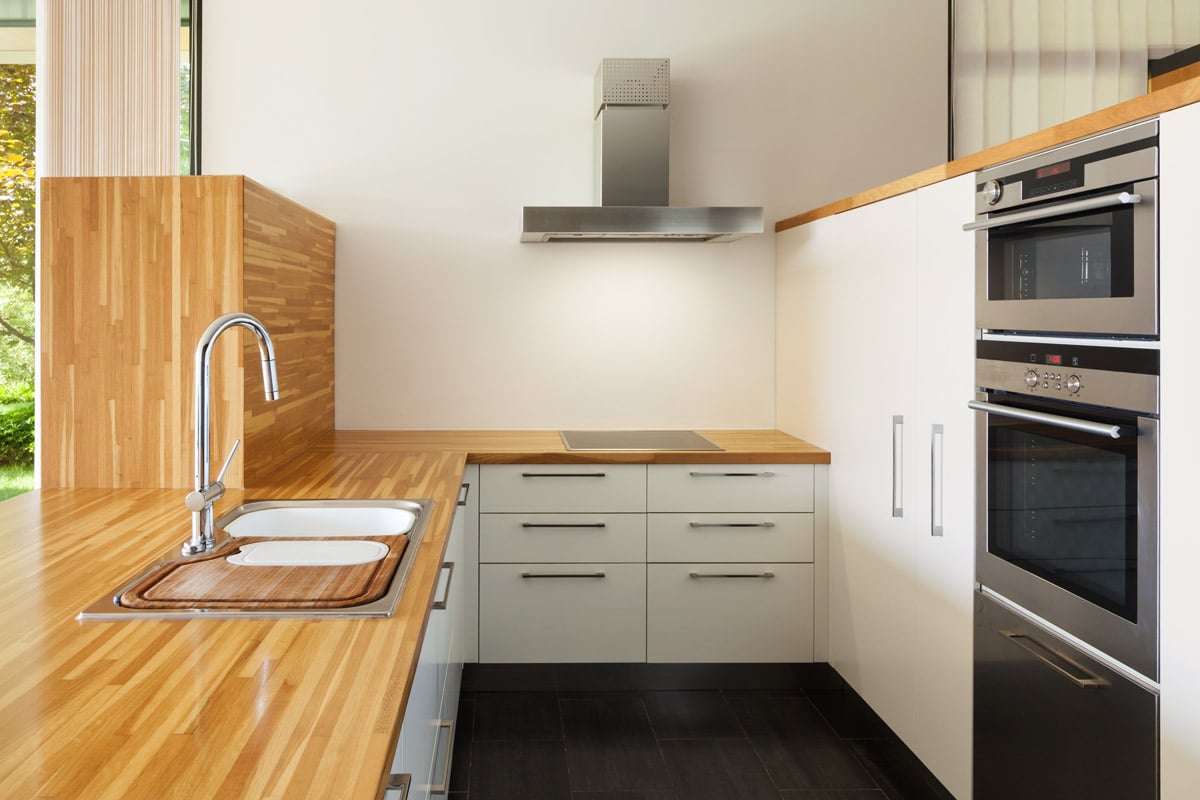 Decorating a small galley kitchen in a bright color, such as our Cream Satin Smooth, opens up the space. Painting the walls in a similar hue to the cabinetry further opens up what could feel like a claustrophobic space. Adding a dark floor may seem counterproductive to making a small kitchen look larger, but, in fact, in this example that is exactly the result. Adding the wooden countertop highlights the stainless steel appliances and creates a division between the adjoining spaces.
Taupe Satin Smooth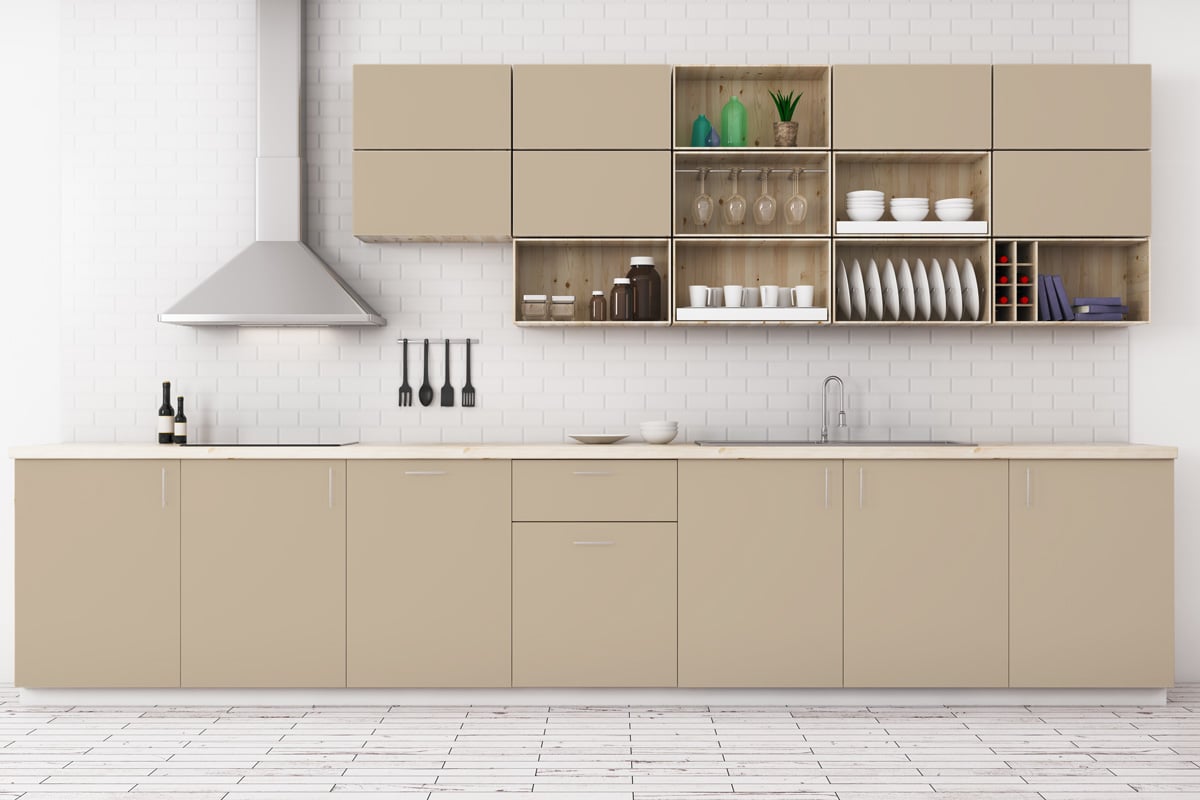 The Taupe Satin Smooth cabinet doors utilized here help to create a warm and inviting kitchen. The combination of open shelving, the light tile backsplash, and flooring is modern and bright. The dark accents stand out in this neutral haven. The feel of this kitchen is easy to alter in the future with the use of cooler tones such as blue or blue-grey.
Cold Grey Satin Smooth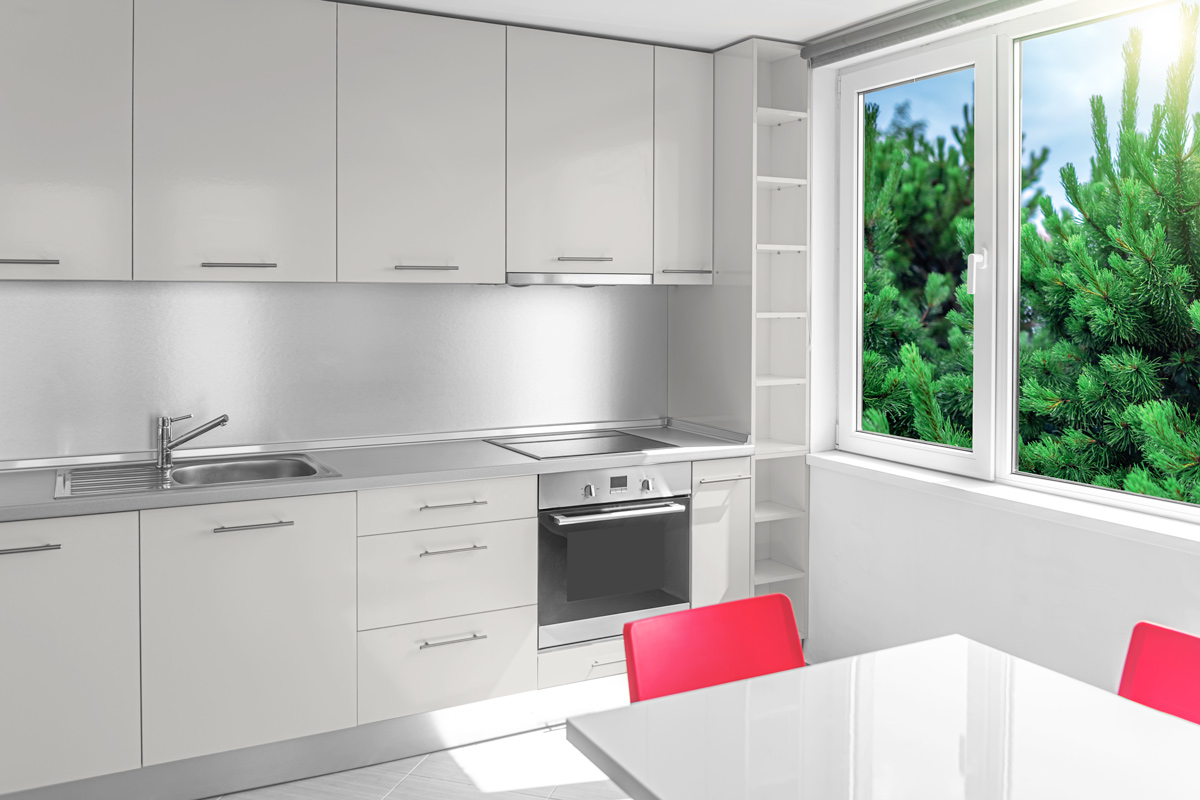 Create a bright, airy, and open kitchen with our Cold Grey Satin Smooth cabinet doors. The light color, with the slightest hint of grey, paired with large windows makes for a relaxing and inviting kitchen. The use of other grey hues, white, and stainless still make the space look roomy. Adding in pops of color, such as the pinkish-red chairs brings excitement and fun to the space. Bring your personality into your kitchen with your favorite bold colors.
Earth Grey Satin Smooth
This Earth Grey Satin Smooth cabinet door is a stunning neutral option for your cabinetry. It is a blend of greyish-brown that brings you back to nature. Using stainless steel accents and faucet adds much-needed light to this small kitchen space. To give the design an inviting and outdoorsy feel, accessorize the space with fresh flowers or even your favorite herbs in small ceramic pots. Ample natural light from large windows and under cabinet lights helps keep the space from feeling too confining.
River Stone Satin Smooth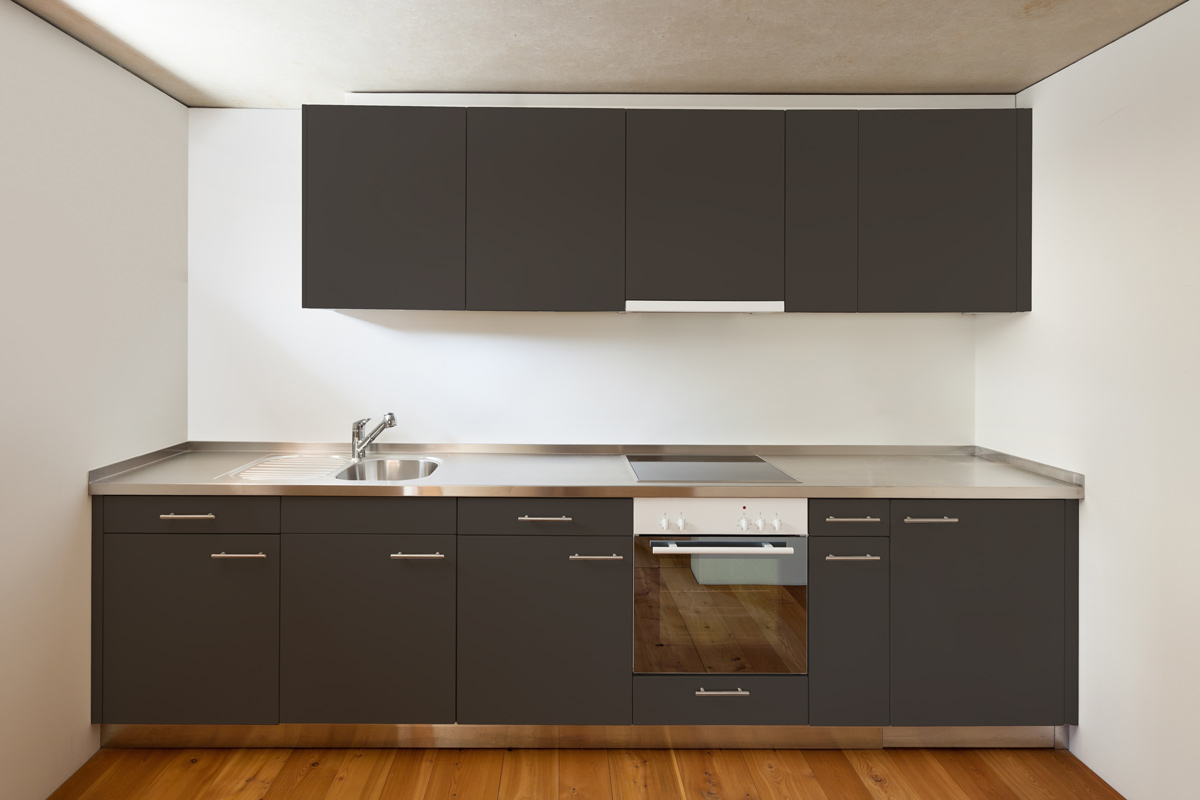 People have been decorating with various hues of grey for years. Our River Stone Satin Smooth is a commanding shade of grey. Using it in conjunction with white walls, light wood flooring, and stainless steel appliances brings the richness of the color to life. Notice how the handles pop against the dark color of the cabinetry. The overall look is dark yet inviting.
Selenite Grey Satin Smooth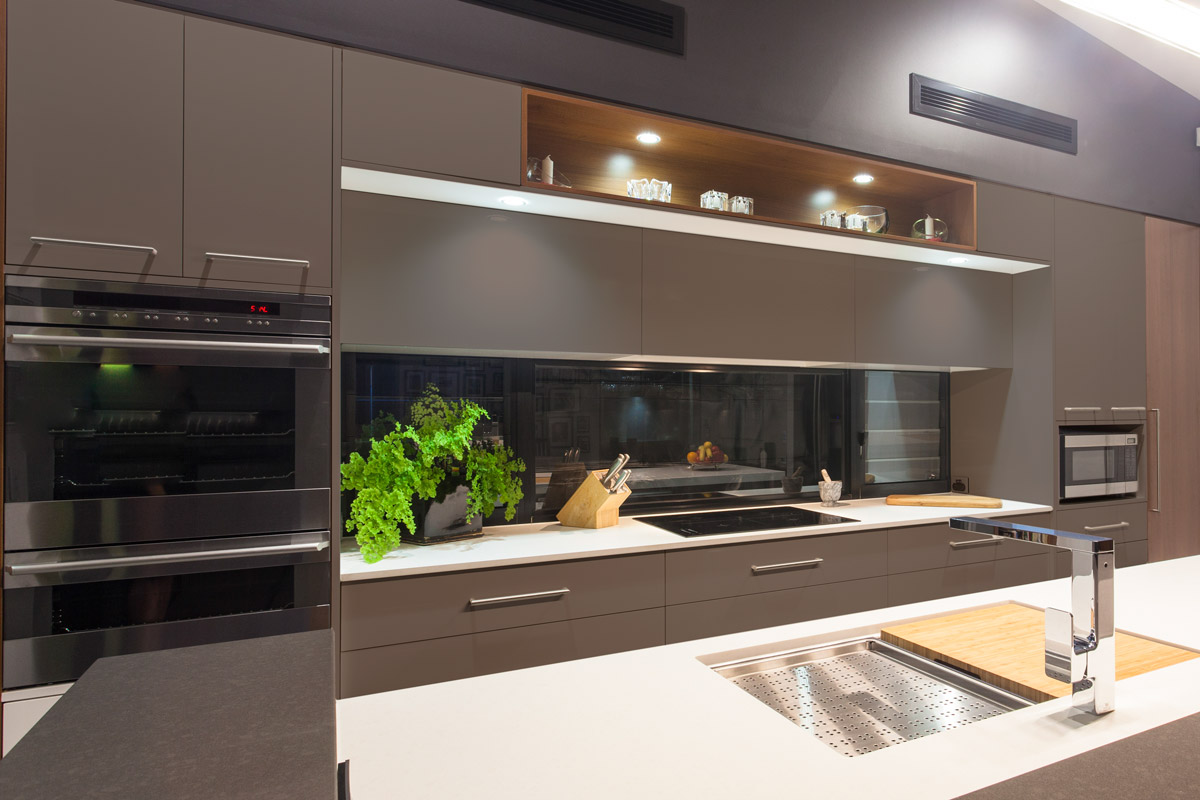 Selenite Grey Satin Smooth is the last of the new cabinet door options released. It is a rich color that adds warmth to a room. The dark grey color works well with the dark backsplash and appliances. To avoid making the space dark and dreary, an abundance of lighting and light countertops create a room people want to congregate in. Touches of stainless steel and greenery give the space life.
All of our Satin Smooth Finish cabinet doors offer numerous benefits to your home. They are beautiful, come in colors to suit any design style, and are made from the finest materials. Concerned about fingerprints because your kitchen is a high traffic area? Never fear, these cabinet doors are designed with a special anti-fingerprint surface. Simply clean your cabinetry with a soft cloth, water, and a mild cleaner. Dry with a clean, soft cloth. Your silky-smooth cabinets are like new.
Are you afraid of damage to your new cabinetry? Accidents happen and that means possible dings and scratches. Your new Satin Smooth Finish cabinet doors feature a special member that allows for the easy repair of micro-scratches. With the proper heat application, those imperfections are a thing of the past.
If you are ready to revamp your kitchen, bathroom, or home office cabinetry look no further. We have the perfect cabinet doors available for you with our Satin Smooth Finish Collection. Let us help you bring your vision to life. The variety of colors available is sure to help you achieve a design that will leave you enjoying your remodel for years to come.