There are many stages to planning your kitchen or bathroom remodel. One of the key elements in either space is the cabinetry. Upon deciding on a theme, the next step is to consider the color, style, and finish of your cabinet doors. Depending on the look you are going for, you may feel overwhelmed by the many options available. One of the most versatile options that you can choose from is our High Gloss Lacquered Cabinet doors.
There are numerous reasons to opt for a high gloss finish when remodeling one of your spaces. Here are a few key reasons:
- Highly Reflective – Rooms appear brighter as the high gloss finish serves as a mirror allowing light to bounce around the room. This, in turn, helps the area feel larger.
- Aesthetically Pleasing – The glossy finish appeals to more people visually, which encourages them to spend more time in the room, this is especially true of the kitchen.
- Simple Maintenance – Our high gloss lacquered cabinet doors do not require excessive cleaning. To remove unwanted dirt, smudges, or fingerprints a damp cloth works. For more stubborn spots use a non-abrasive cleaner. Use a clean soft cloth to wipe dry.
- Adds Interest to a Room – When paired with bold and bright colors high gloss cabinet doors pop and bring life to a room.
HIGH GLOSS LACQUERED FINISH & VARIOUS DOOR MODELS
Another important factor in opting for a high gloss lacquered finish is they highlight the beauty and construction of any model of cabinet doors. You don't have to stick to the traditional flat panel door when choosing this cabinet door finish when other stylish options are available.
Model Glass Ready Frame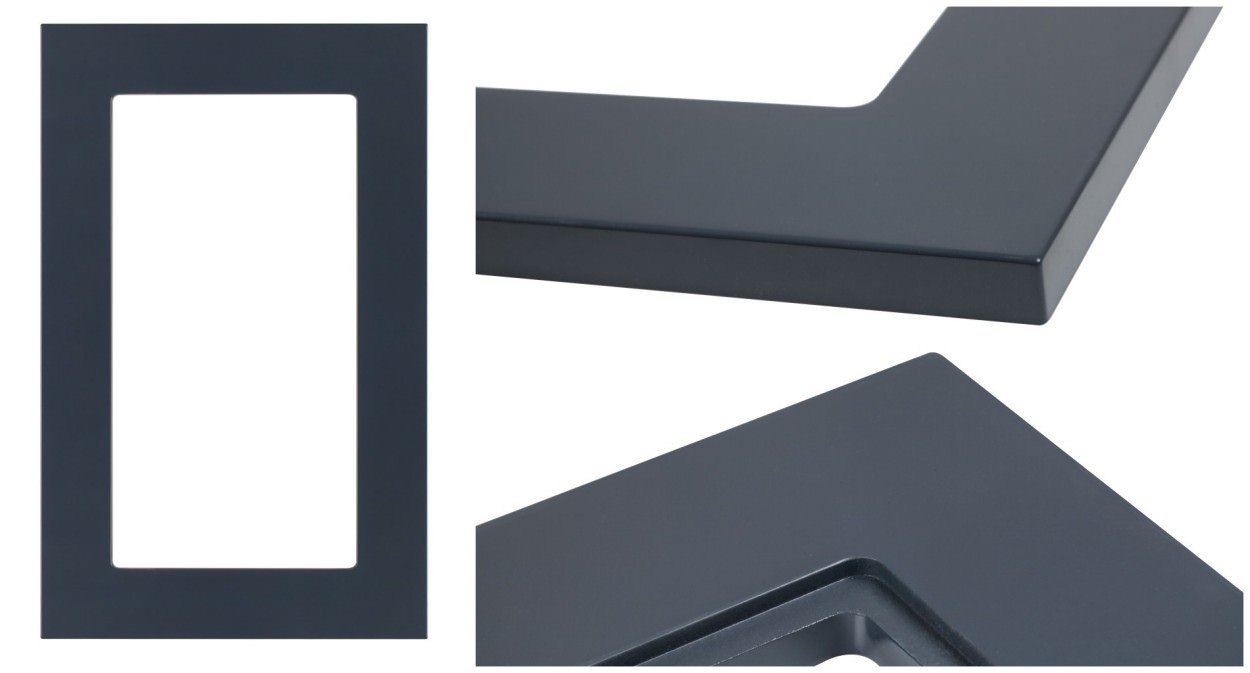 A more high-end and modern option to use would be our Model Glass Ready Frame. You can choose our High Gloss Graphite Grey (7024) if you are interested in a more industrial look. The glossy dark color paired with the glass adds interest to your cabinetry. The use of glass in your cabinetry also helps open up the space to make it appear larger than it is.
Model 5200 – RAL 6034 Pastel Turquoise
When you pair our beautiful high gloss pastel turquoise with our Model 5200 shaker-style cabinet door you're going to elevate your kitchen cabinetry. The soft corners around the recessed center panel offer a simple yet modern touch to your cabinetry. You cannot go wrong selecting this model of cabinet doors as they are among the most popular in kitchen design. If the color is a bit too bold and bright, there are over 200 different color options available to suit your design tastes.
Model 5101 – RAL 7002 Olive-Grey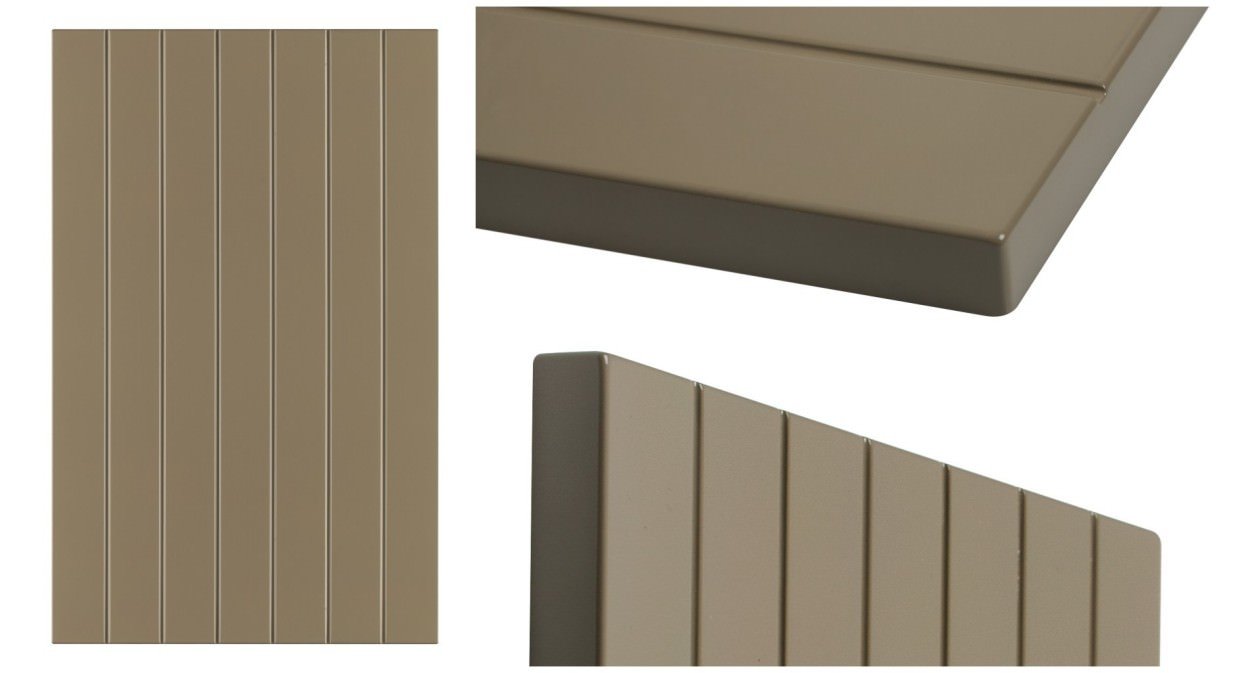 You're truly in for a special piece of cabinetry when you choose Model 5101 as your cabinet doors. When you choose to go with this particular model in our olive-grey you can create a country-themed kitchen. The tongue-and-groove doors offer a similar feel to shiplap. Switch up the color to a pale blue or white and you can create more of a coastal appearance to your kitchen or bathroom. The versatility of this cabinet door is endless.
Model 5320 – RAL 9002 Grey White & Model 5045 – 45 Degree Mitered Edge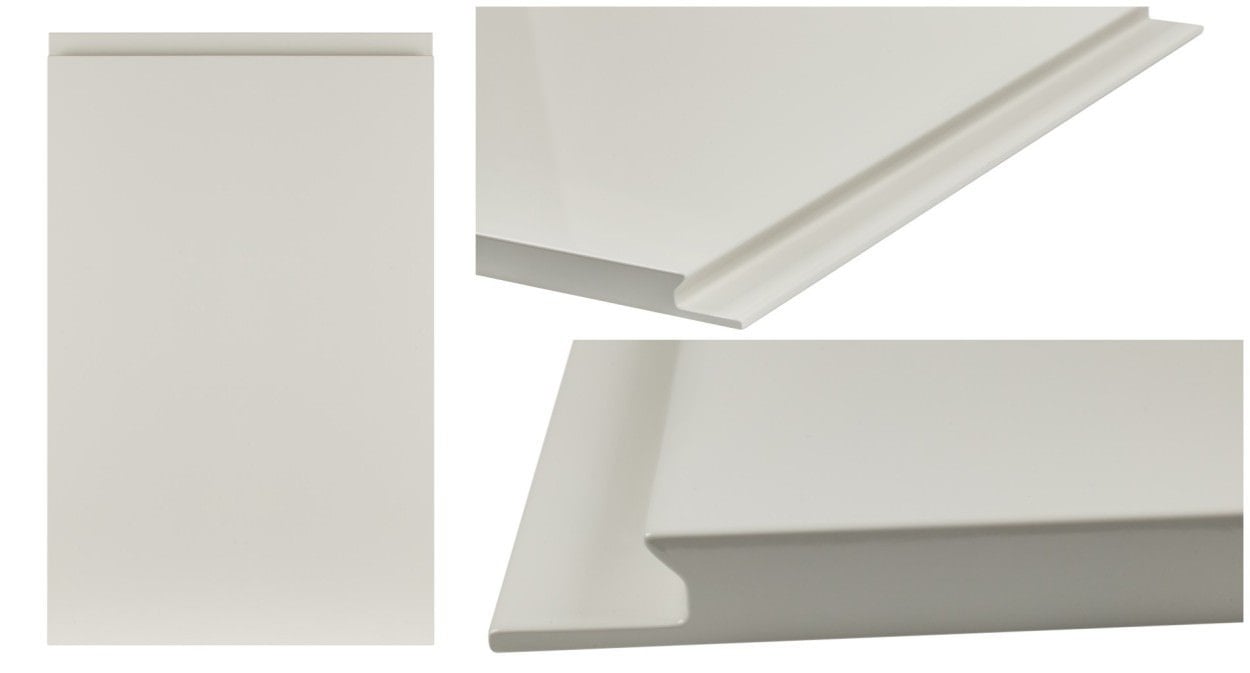 If keeping smooth lines in your kitchen is important to your design our Model 5320 is Grey White is an excellent option. This is a handleless cabinet door that features a J-pull. There is no need for traditional hardware interrupting the flow of these cabinet doors with just a hint of color to them. A handleless cabinet door can also help reduce unnecessary fingerprint smudges on the sleek and shiny finish. If you would prefer a hidden finger pull we have Model 5045. This particular door has a mitered edge which affords users the ability to easily open the cabinet doors without the presence of a visible break on the face of the door.
Model 5202 – RAL 5015 Sky Blue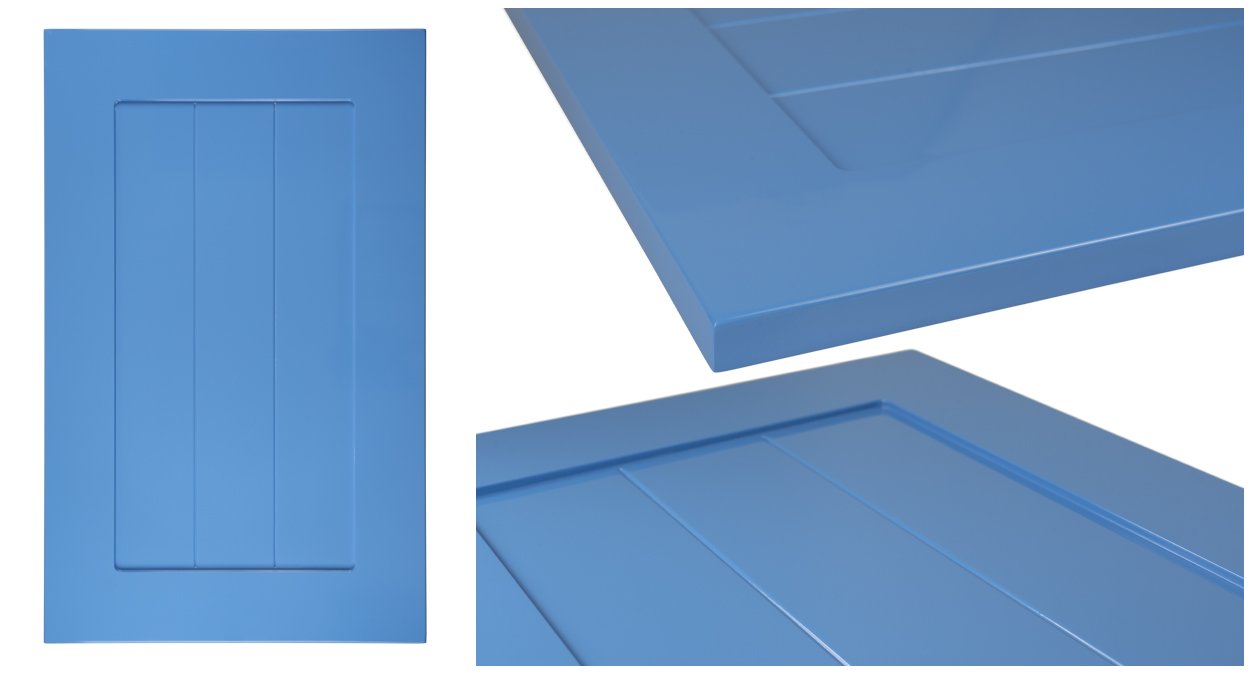 If you want to go with a color that is bright and cheery our High Gloss Sky Blue is a fabulous option. When that color is used on our Model 5202 cabinet door you get a wonderful mix of the shaker and tongue-and-groove cabinet door styles. Create a welcoming kitchen in a country-chic design using these cabinets, natural wood elements, and country accessories. Kitchen windows free from coverings would help enhance the beauty of the color and add additional light to the space.
Model 5330 (RAL 6005 Moss Green) - Model 5340 – Model 5350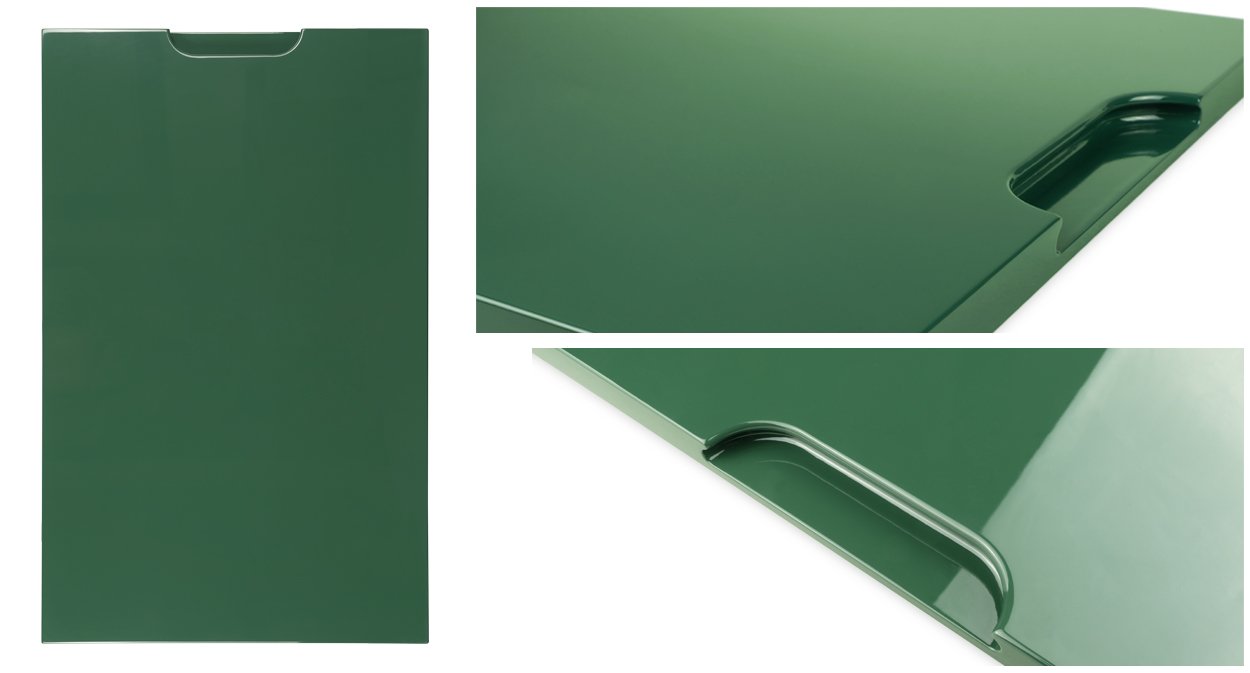 If you are looking for a handleless cabinet door with a bit more character and design to it, our Model 5330 is a great option. It has a smooth area cutout that allows you to open the doors effortlessly with your fingertips. When ordered in moss green it brings nature into your kitchen or bathroom and helps your room feel fresh and alive. Paired with white countertops and accessories you can create an area where everyone would like to be. Our Model 5340 and Model 5350 are additional handleless options where the groove for your fingers adds a slight design to the corners of the cabinet doors.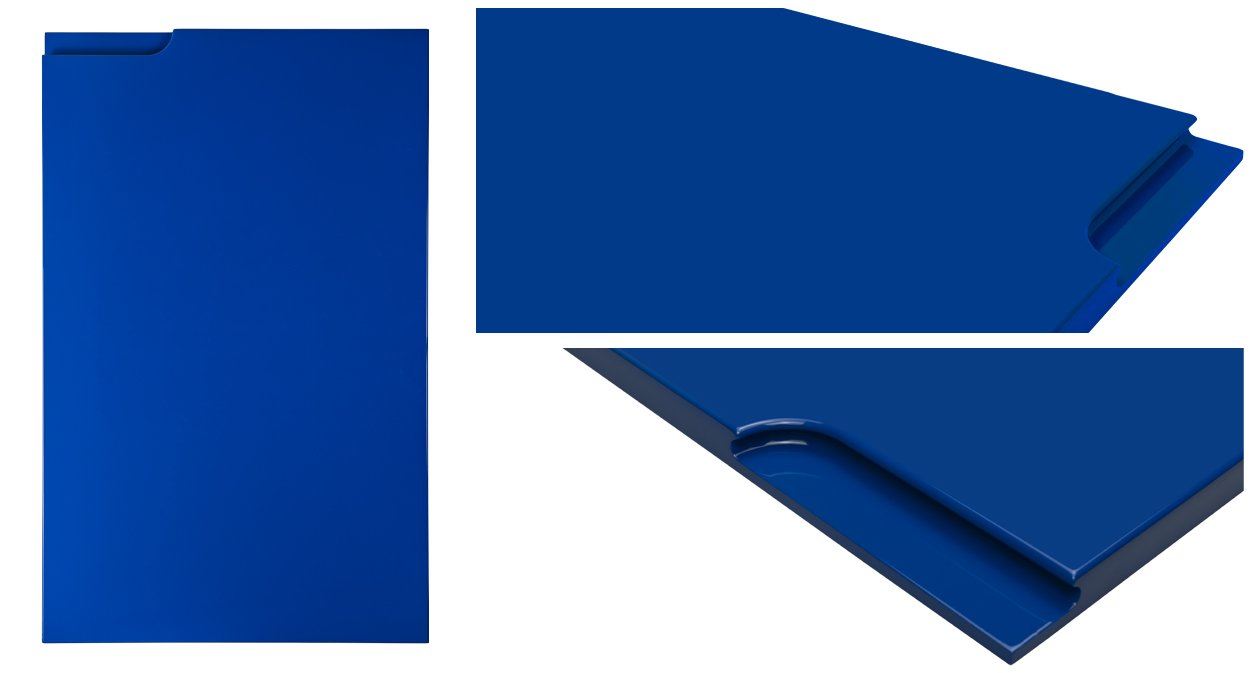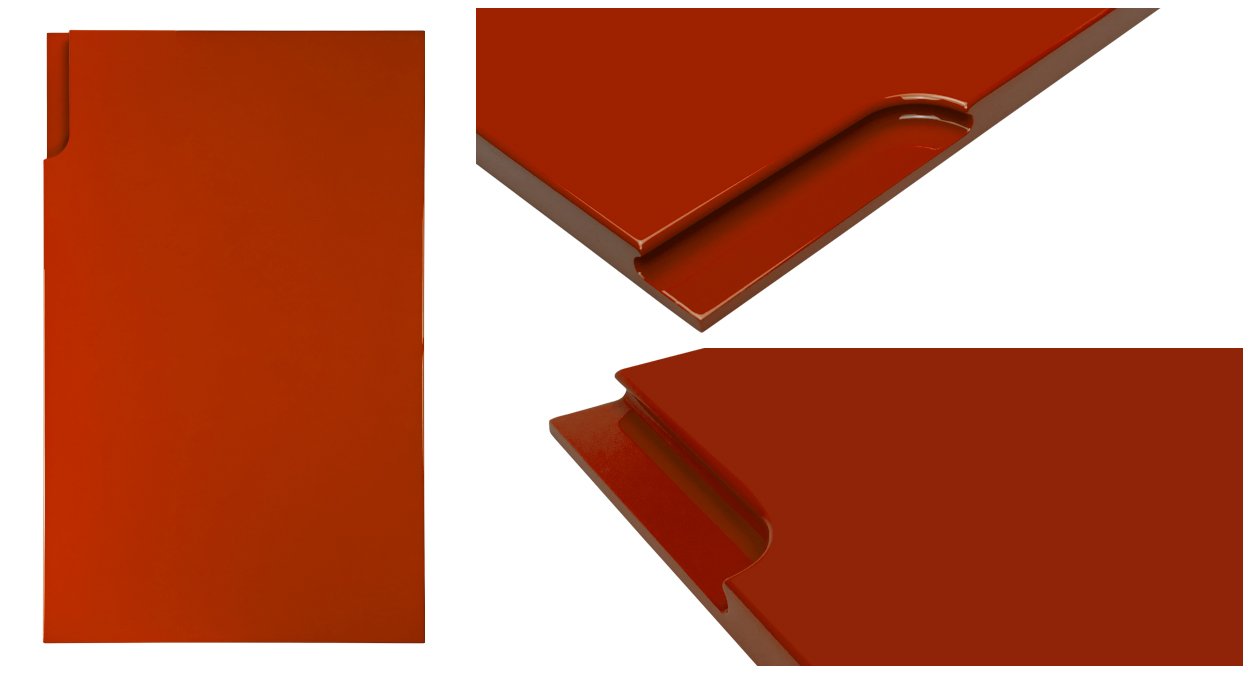 High Gloss Cabinet Doors with Grooves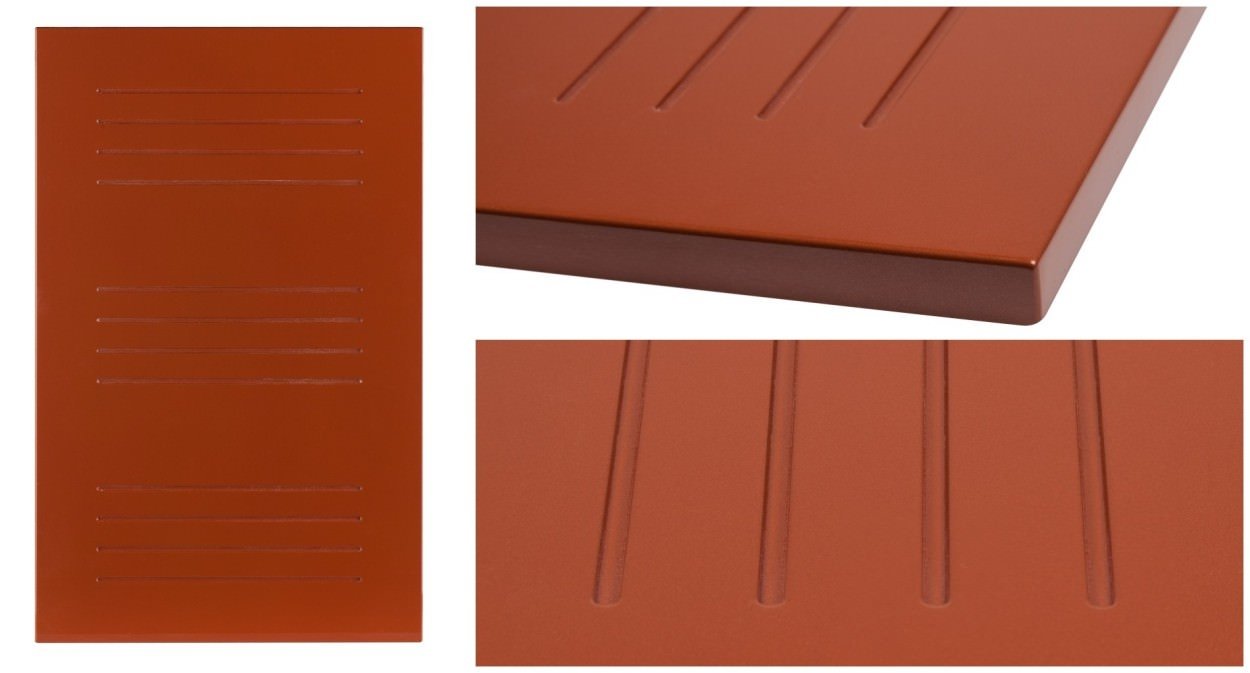 If you are searching for a flat panel door with a touch of design we have several models available. Our Model 5205 in RAL 8029 Pearl Copper is reminiscent of an old locker. It features three groups of four slight grooves horizontal in origin. Model 5301, conversely, is a cabinet door that features two vertical grooves, which add a slight bit of depth to the door's overall look. When these doors are hung with the lines going either vertically or horizontally it can give the impression of paneling. There is another model of cabinet door where the grooves are cut at an angle creating an envelope-like effect. This is a creative cabinet door option for those people who are artistic and desire cutting-edge designs.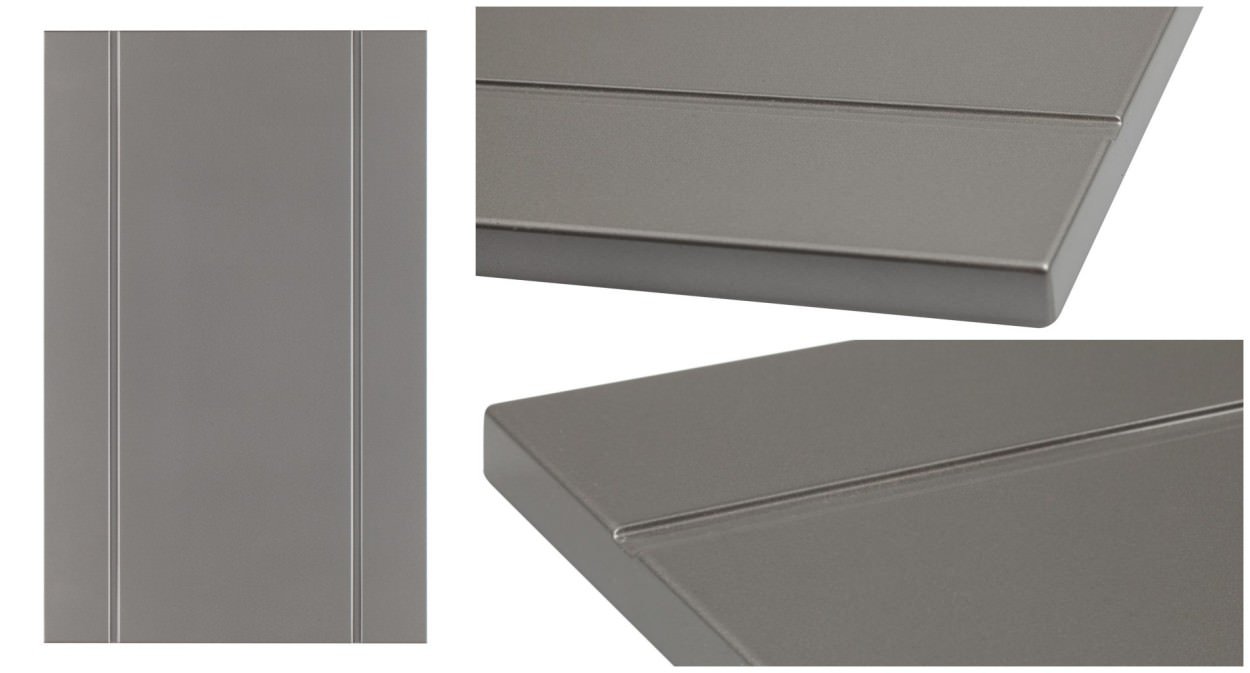 High Gloss Lacquered Cabinet doors are not just beautiful and well-constructed options for your kitchen cabinetry. They are also available in an array of models to help you create the perfect look for your home. Whether you prefer our flat-panel options, shaker style, tongue-and-groove, or panels with decorative grooves there is something for any style or theme. You can also choose the custom sizes you need as well as select from over 200 different styles. You will ultimately have cabinetry that suits your needs and specifications that are also functional and easy to maintain.