Remodeling a kitchen is fairly easy if you plan on using your existing cabinet layout as you can simply replace old with new. But what if you want a brand new look – where do you start and does it matter what goes where? Actually it does – remember that regardless of how good a kitchen looks, it still needs to function efficiently even if you're only an occasional cook. There are a few guidelines that should be followed if you're planning a new layout for your remodeled kitchen.
Tips for your New Kitchen Layout
While many of these tips are just common sense, DIYers often get caught up in choosing new cabinets, floor coverings, and countertops and forget that the main purpose of the kitchen is to prepare meals. Here are a few guidelines to keep in mind:
• The Triangle – many kitchen designers feel that a kitchen is most efficient when a triangle is used when determining the location of the three most used fixtures in the room: the sink, the refrigerator, and the stove/oven. They feel each leg of the triangle should be at least 3 feet long, but no further than 7 feet – this allows you to work without feeling crowded, but cuts down on the amount of time spent walking between work stations. Ideally the three legs of the kitchen triangle should not total over 12 feet when added together.
Typical Triangle in a Galley type kitchen setup
• Aisles – always allow enough space between rows of cabinets, appliances, and any other fixtures in the room so that you can walk easily and open doors and drawers as needed without having to go through bodily contortions. At a minimum you should have a clear 3 feet, but 4 feet is even better – especially if you often have help in the kitchen.
• Work Stations – in this era where cooking is often a family affair, having more than one work station can make the kitchen feel a little less crowded and help everyone work more efficiently. If there's room for a kitchen island, it often doesn't take much to turn it into a work station that might feature a prep sink, cutting board, or even a cook-top if you have a separate oven.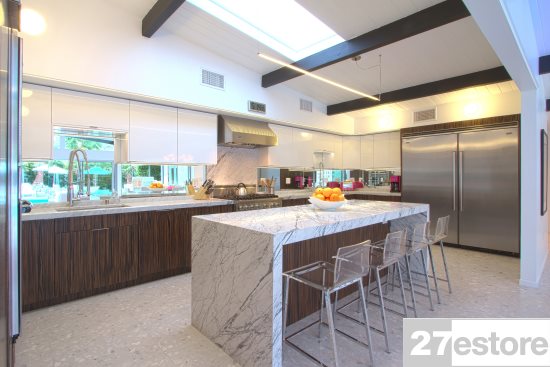 Island areas can function both as work and dining areas.
Cabinet finish shown - Ebony Macassar Natural Wood Veneers and High Gloss White
by 27Orange Kitchen Cabinets
• Storage – when planning your new kitchen layout, a good rule of thumb is that there can never be too much storage. Fortunately, cabinet manufacturers offer plenty of options that can add organization to the room and ensure you never have to waste time searching for ingredients or utensils you know are there, but can't seem to find. Beyond the basic shelving offered in standard base and wall cabinets, there are also pantry cabinets, pull-out spice racks, and even configurations that allow you to tuck your waste and recycling containers out of the way.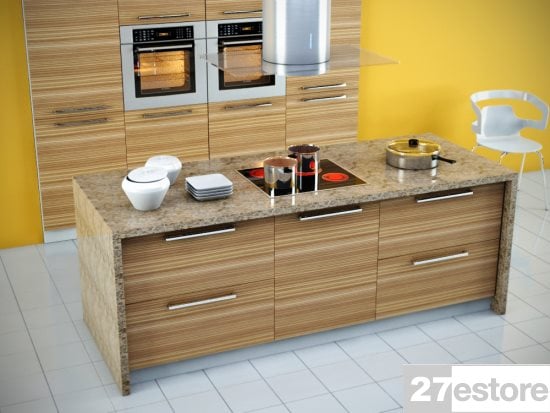 Tall Cabinets have the capacity to solve many storage issues.
Cabinet finish shown - Zebrawood Natural Wood Veneers by 27Orange Kitchen Cabinets
As you can see by the above tips, one of the keys to good kitchen design is creating a layout that's conducive to working efficiently by making movement around the room easy and reducing clutter. You may want to use painter's tape to layout your new design on the kitchen floor to ensure walkways are wide enough and there is good flow around the room before finalizing plans and placing your cabinet order.