A kitchen remodeling project can be a great way to give the interior of your home a fresh look and may even increase its value. The kitchen is one of the most used rooms in many homes and is where families often gather at the end of the day – giving it a makeover not only brightens up the room, it may rejuvenate the atmosphere of your entire home. So what are your options when considering a kitchen renovation – what changes can give the room a brand new appearance?
Kitchen Cabinet Renovation Options
Regardless of your kitchen size or layout, the cabinets are normally the most noticeable feature when people enter the room. Their finish and the door and drawer styles are the focal points that draw visitors' eyes and the wall colors, floor coverings, and even the countertops often merely serve to complement the cabinets' appearance. Changing your cabinets, or at least their look, can be an easy option for renewing the styling of the entire room. Two of the most popular methods for accomplishing that goal are to install new cabinets or to reface your existing units.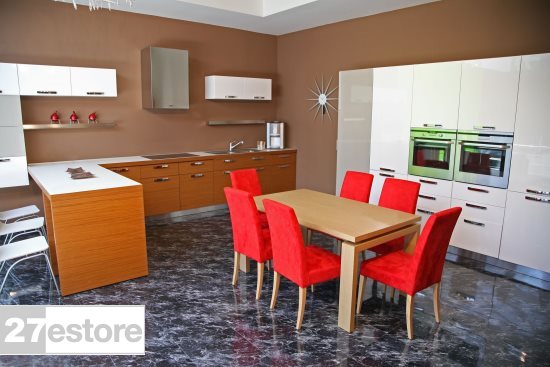 The cabinets in a kitchen are the focal point that attracts most attention.
Finishes shown Teak wood veneer and High Gloss White by 27Orange Kitchen Cabinets
Refacing involves applying a new wood veneer to the face of your existing cabinet boxes and installing new cabinet doors. Many people also choose to change their cabinet hardware during the refacing process. Refacing can completely change your cabinets' style and finish. So which is right for you and your kitchen: refacing or installing new cabinets? Here are a few issues to consider:
Existing boxes – refacing uses your existing cabinet boxes so if the interiors aren't in very good shape, purchasing new cabinets might be the way to go.
Countertops – if you like your current countertops and plan to reuse them in your kitchen renovation, refacing is often the best choice. The countertops will have to be removed to install new cabinets and this can result in breakage or damage. Refacing can normally be done while the countertops are in place.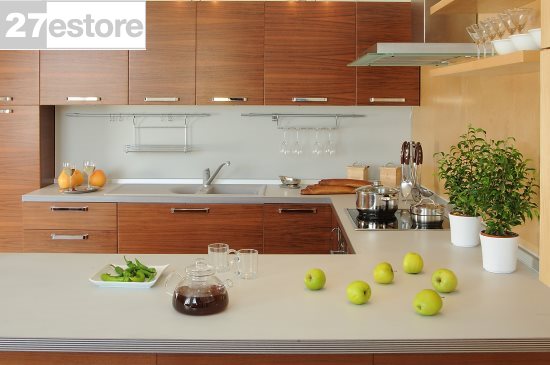 A Refacing project allows for the countertops to be preserved.
Finish shown Rosewood veneer by 27Orange Kitchen Cabinets
Layout – a new cabinet layout that differs substantially from your current arrangement almost necessitates purchasing new cabinets. You may be able to use a few cabinets from the old layout, but even with refacing, they may not completely match.
Changing the kitchen cabinets layout will most likely require purchasing new cabinet boxes.

DIY ability – this area is pretty much a toss-up as installing new cabinets and refacing are both DIY-friendly projects.

Schedule – unless there happens to be a unique situation, refacing kitchen cabinets is almost always faster than installing new units. In most cases, the kitchen can even remain in use while the project is ongoing – however, when installing new cabinets, your kitchen may be out of commission for a while.

Cost – refacing is usually less expensive than purchasing new cabinets.

Home value – installing new cabinets normally carries more weight with potential purchasers than refacing existing boxes – however, if the refacing is done properly and the old boxes are in good shape, they may not be able to tell the difference.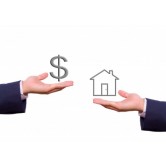 Weighing Cost and Home Value is a necessary decision process.
Refacing and purchasing new cabinets are both good options for giving your kitchen a fresh new look – the guide above can help with the decision as to which method is right for you.