A kitchen is the sum of all of its parts. Creating the ideal kitchen for your home and your needs is not a simple task. There is much more involved than what color to paint the walls and which cabinetry you wish to install. One can select the perfect wall color; have the most beautiful kitchen cabinets and countertops but the accessories fall flat.
In a kitchen redesign, one of the most forgotten elements is the cabinet accessories. There are now a plethora of kitchen cabinet accessory upgrades available. Cabinet accessories are important for a number of reasons. They can help improve the overall look of a kitchen, as well as elevating the functionality of the kitchen cabinetry.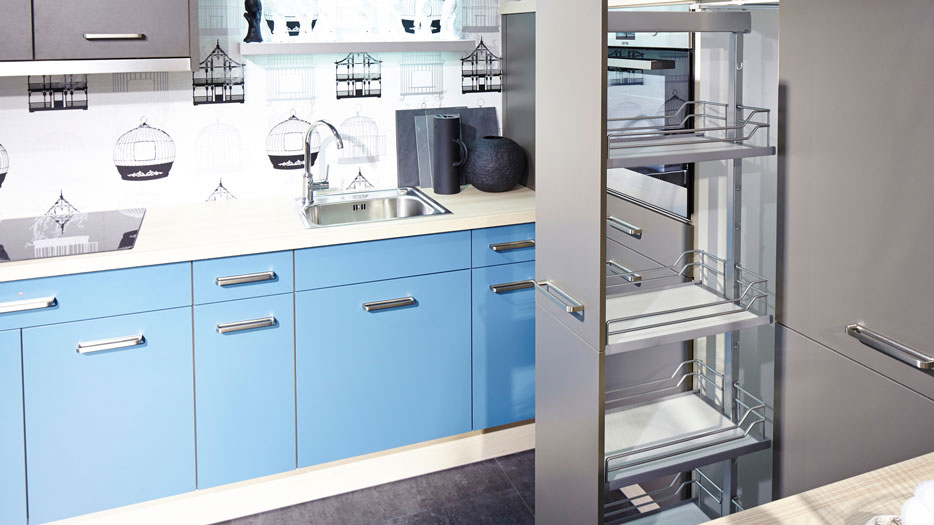 Waste Bin Storage Options
One of the most necessary items found in the kitchen is the waste bin. It used to be that they were always just out and exposed to anyone entering the kitchen. Eventually, people began moving these bins into the base cabinets to hide them from view. The problem with that is they were stuck inside the cabinet, which could make them difficult to access. Now it is possible to reconfigure your cabinetry to store one or more waste bins.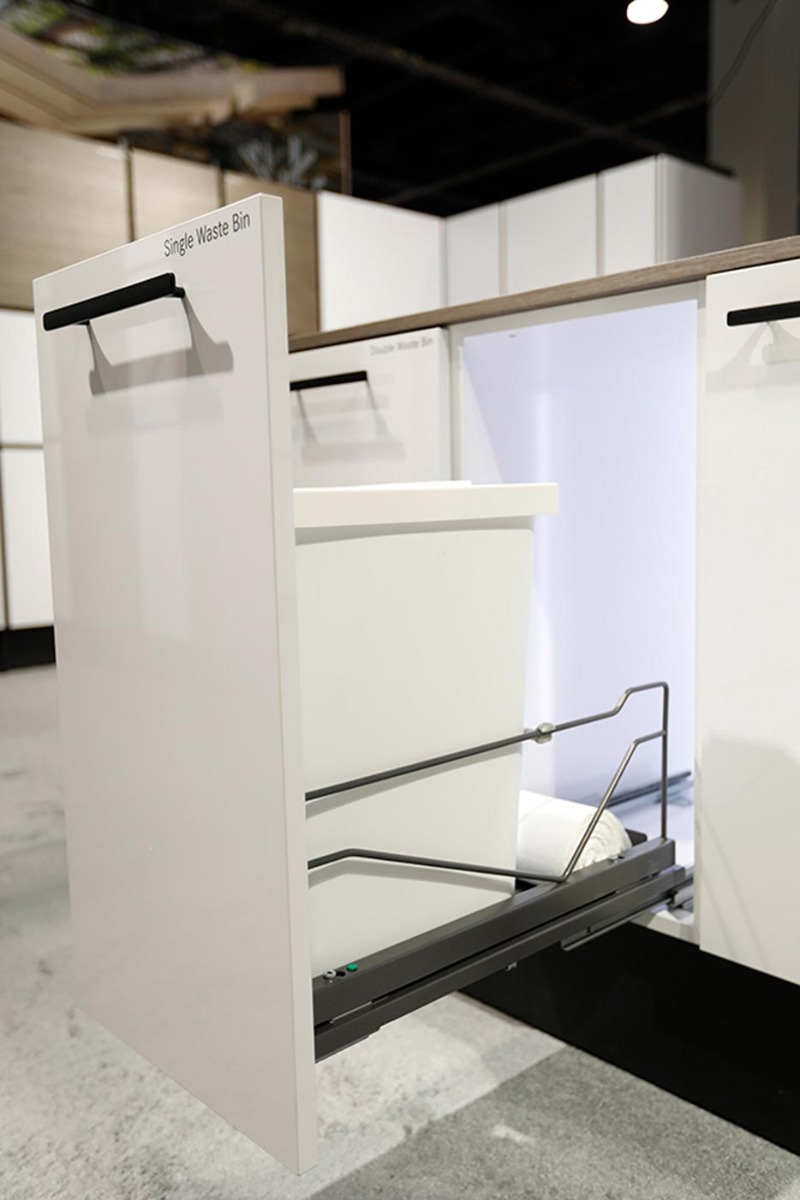 This single waste bin pullout cabinet is designed with a soft-close runner. The waste bin sits securely and the properly mounted hardware helps to prevent tipping. The design also makes it easy to hide the unsightly bins while providing quick and easy access.
Double Waste Bin Pullout Cabinet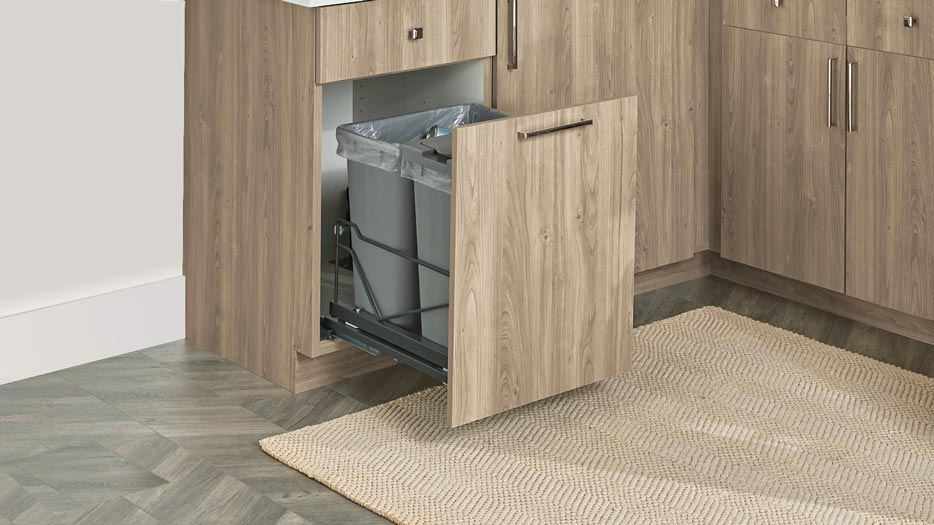 The installation of the double waste bin requires minimal tools and is relatively easy. It is possible to use these bins for garbage when one bin is installed in a cabinet, or for sorting recyclable items when using two bins.
The Corner Susan
The leading, if not one of the biggest, dilemmas in creating the ideal kitchen layout is storage. If cabinet space is limited it is vital to have a location specifically set aside for pots and pans. At one time the lazy Susan was a single round turntable used on dinner tables. Overtime the lazy Susan was adapted to be used in cabinets. The new incarnation is somewhat kidney-shaped and works in corner cabinets.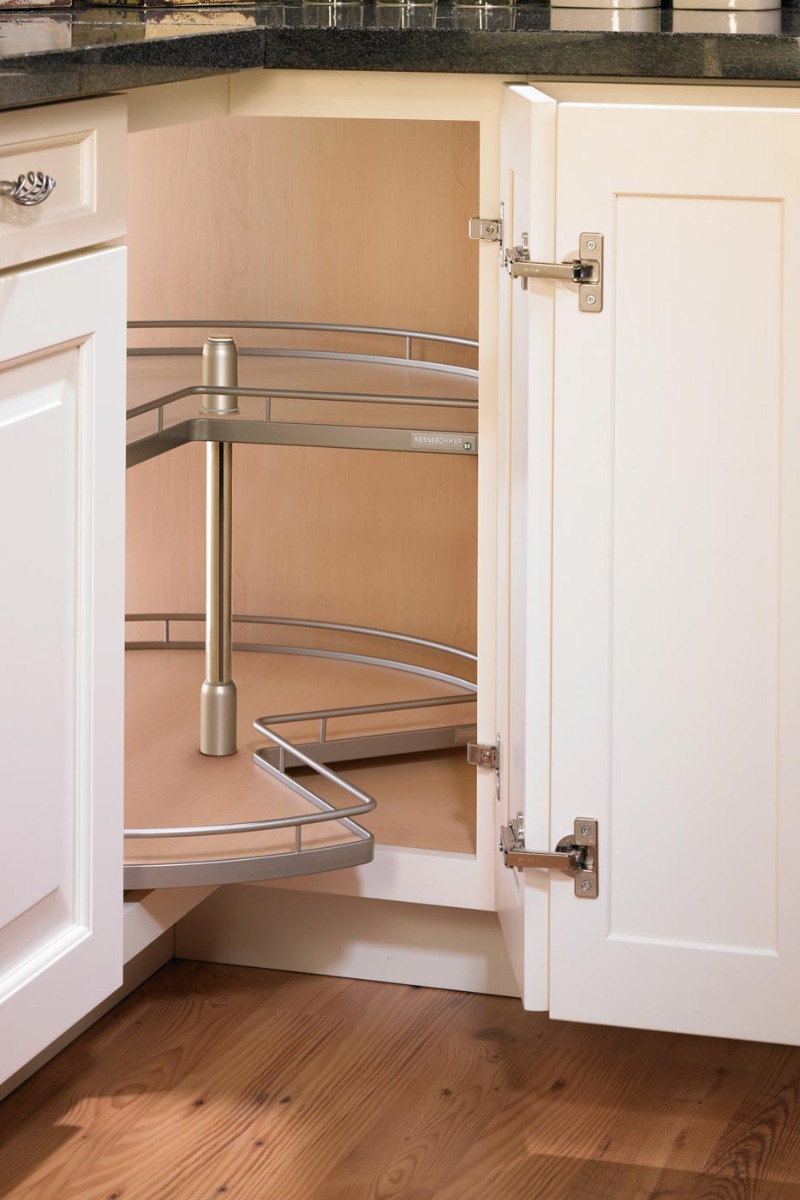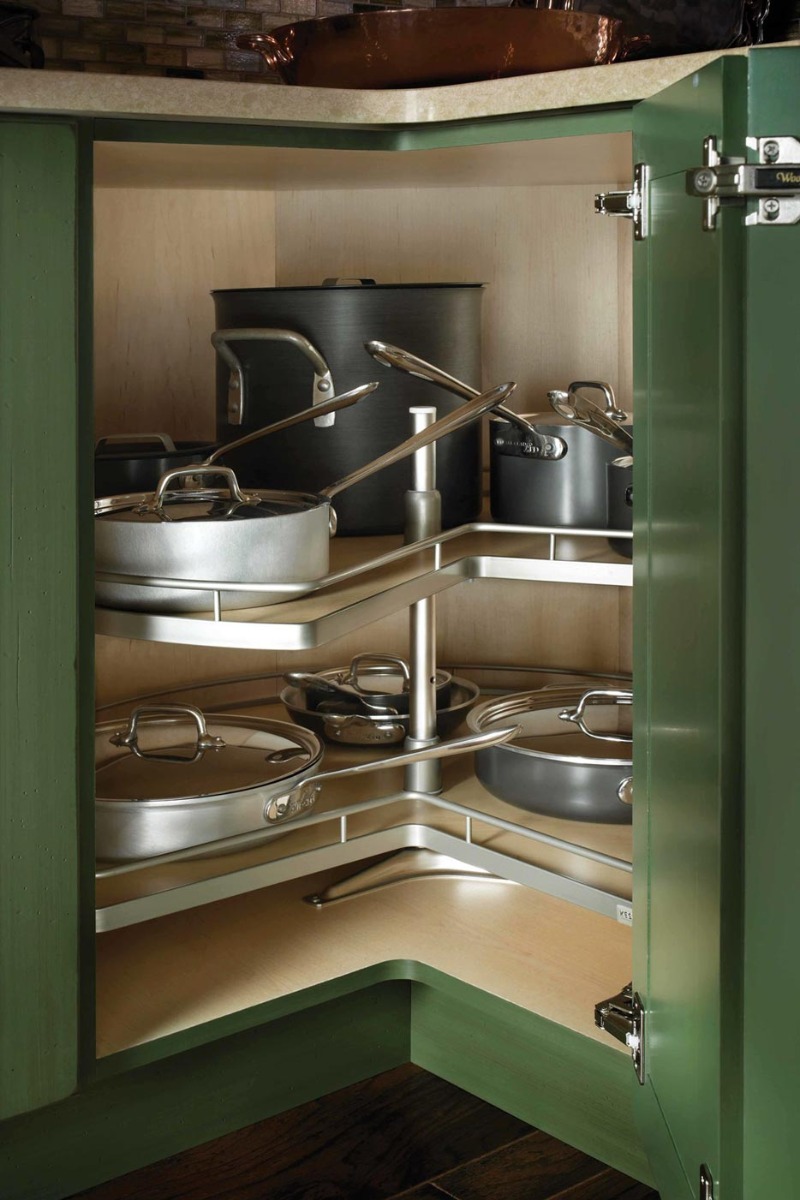 When placed in cabinets it's easy to turn functionality makes accessing and sorting spices and other kitchen items a breeze. The corner Susan of today is strong and durable enough to handle cumbersome cookware. Furthermore, when installed in base cabinets finding and retrieving required cookware is simplified
Alternative to the Corner Susan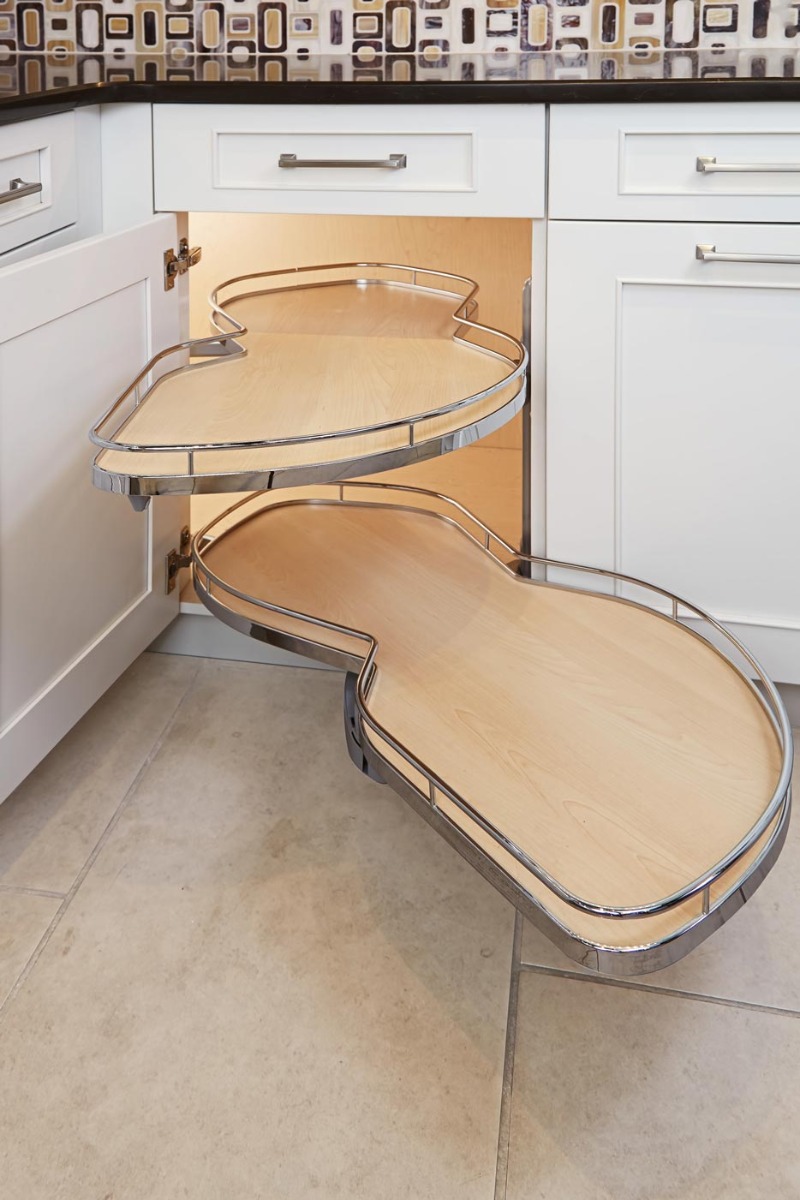 LeMans Chrome Maple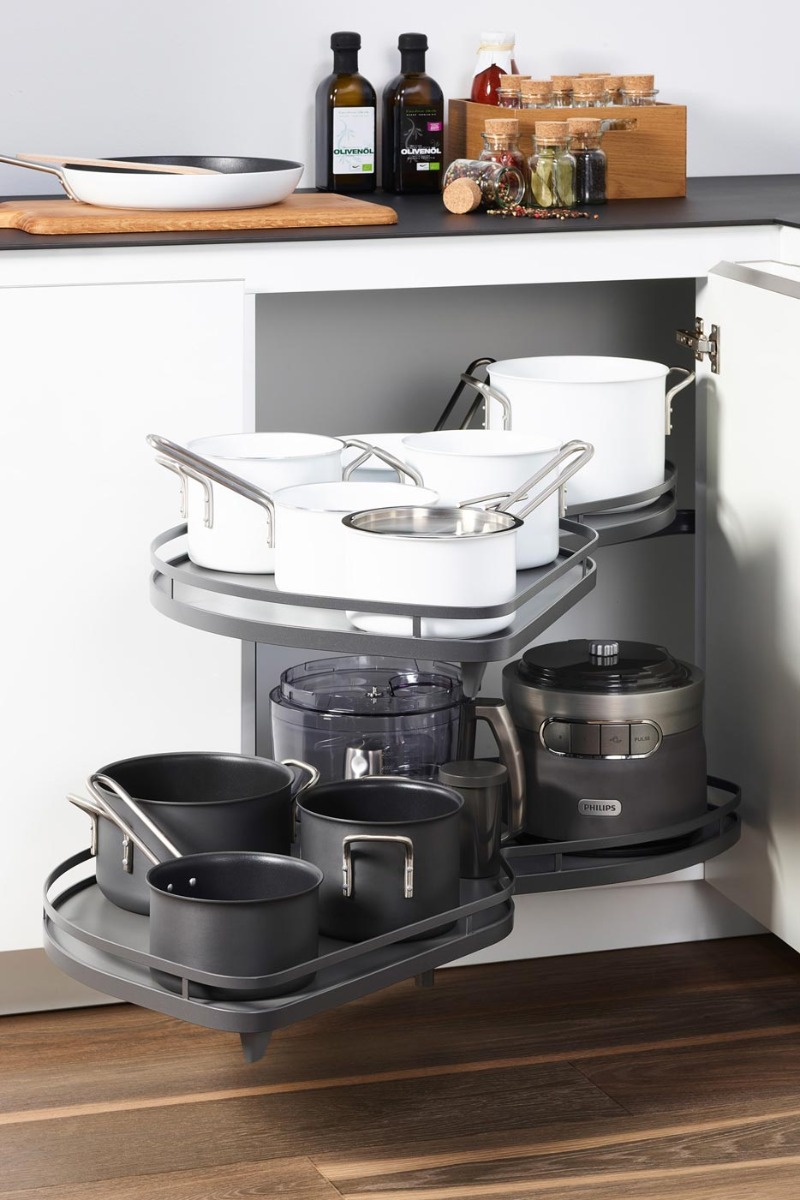 LeMans Anthracite
Alternative options for blind corner cabinets have joined the cabinet accessories market. Whereas the corner Susan may work for some kitchen themes and styles the LeMans is an alternative choice designed by cabinet accessory specialists. The LeMans' unusual shape is reminiscent of the Le Mans racing circuit. The shelving pieces feature 85% angles for ease in getting in and out of the cabinet.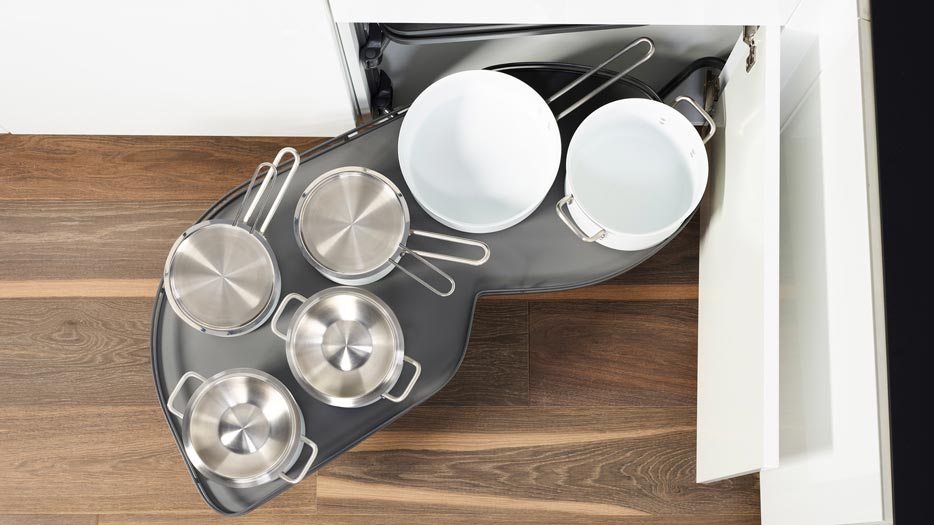 In addition to its unique and highly-effective design, the LeMans shelving system comes in a variety of finishes to fit any design style. There is no need to sacrifice your style desires for functionality. Furthermore, the shelves are adjustable which makes storing those huge stock pots and smaller frying pans in the same cabinet incredibly simple.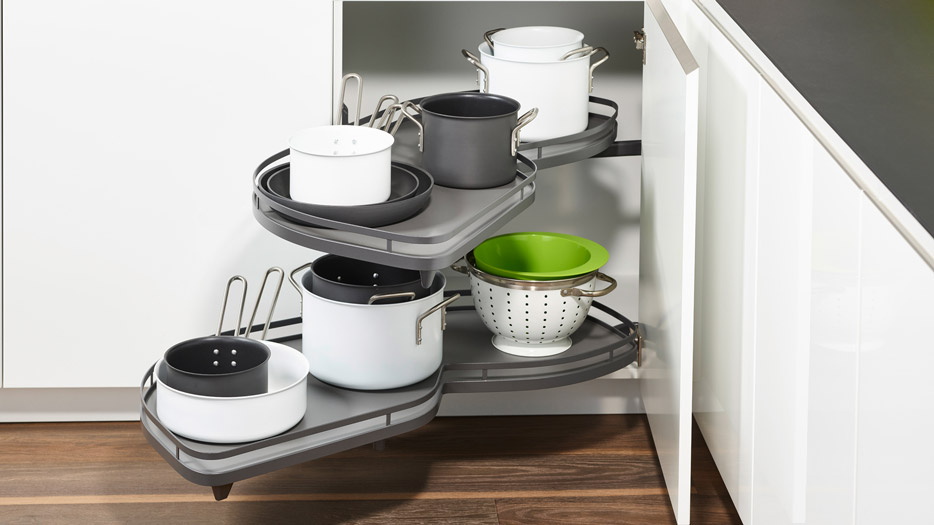 The design storage options are limitless when choosing the multi-layered LeMans shelving system. Store your favorite pots and pans in one cabinet utilizing two shelves. If you prefer the look of the stylish 4-shelf system choose it to store your best china or all of your bakeware and mixing bowls. The options for this system are limitless.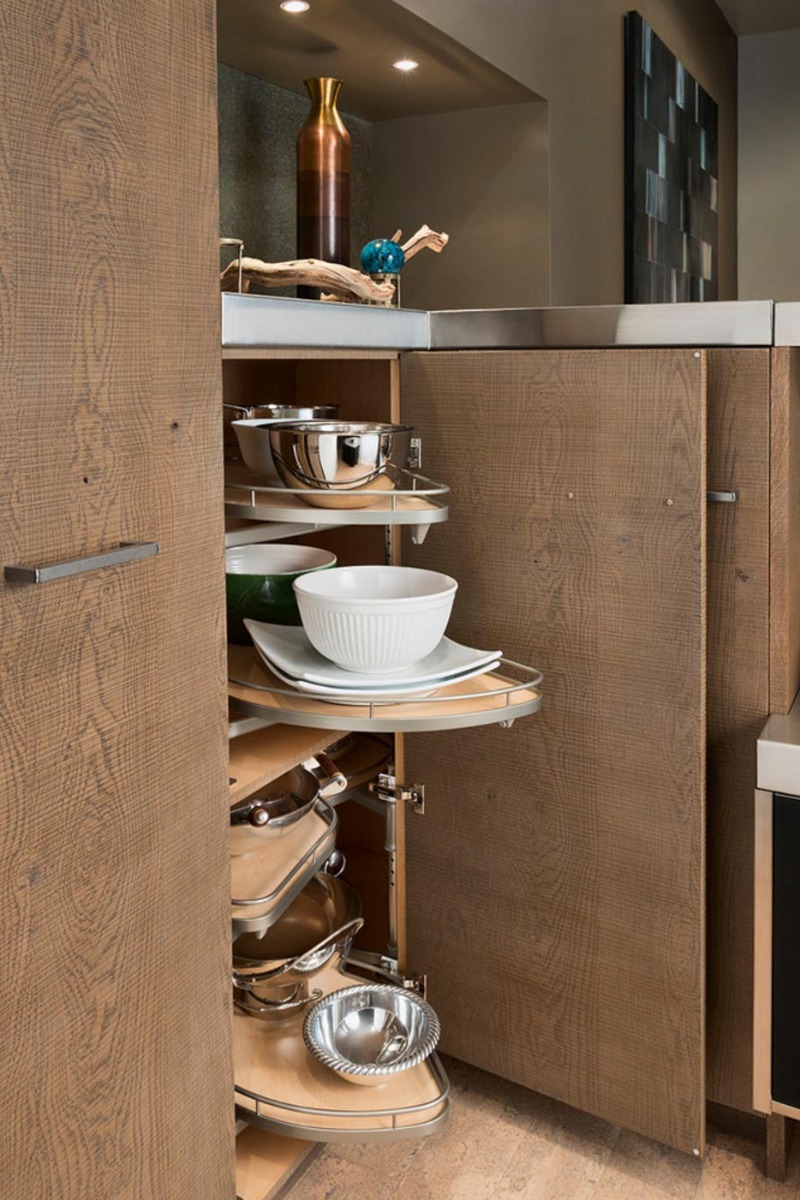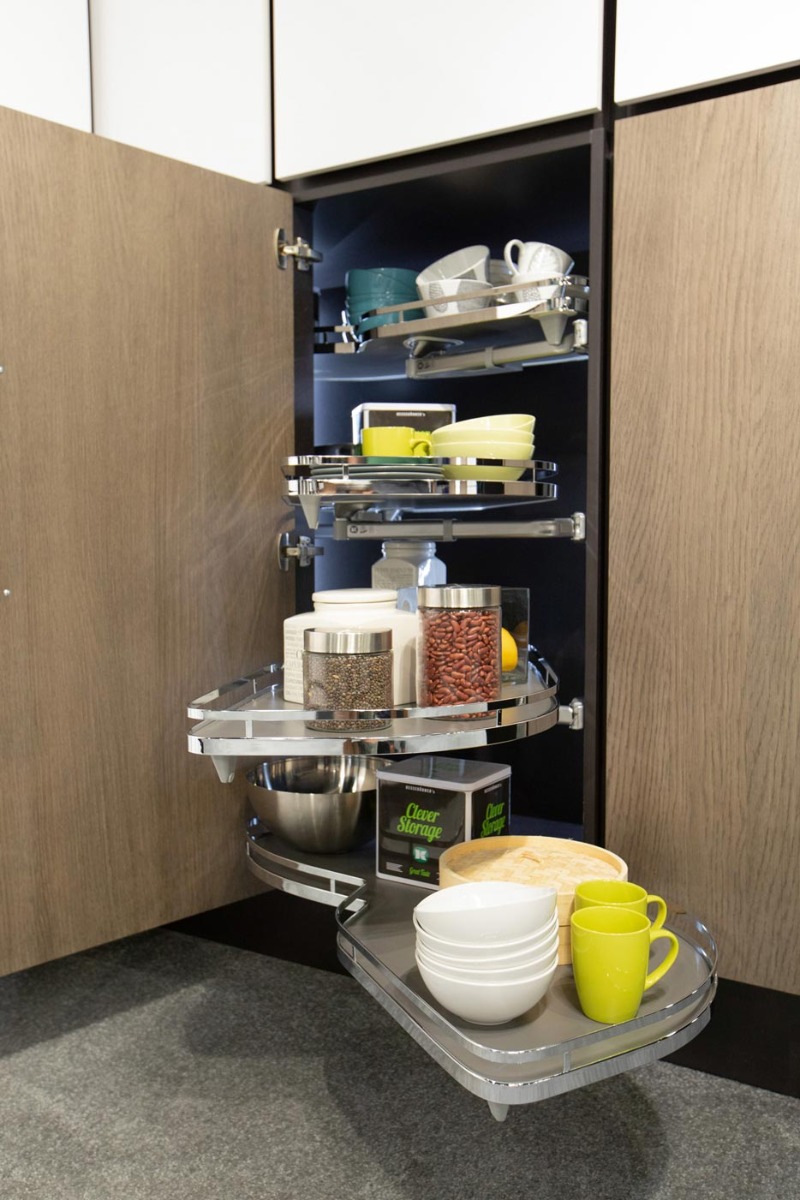 Use this 4-shelf system for easy access to your pantry items such as specialty coffees and teas. Don't forget to add the mugs and teacups to make brewing your favorite hot beverage a snap.
Pantry Organization Systems
Ensuring that all of your dishes and cookware are safely stowed away is not the only concern in the kitchen. If you or another member of your household is a burgeoning chef another important factor is pantry storage. Having quick access to all of your most used and least used, ingredients in the pantry is important. Nobody likes to have to shift cans, boxes or jars around a dark cabinet to find exactly what they are looking for. With these fully customizable pantry systems, finding what you need when you are cooking will be easier than ever before.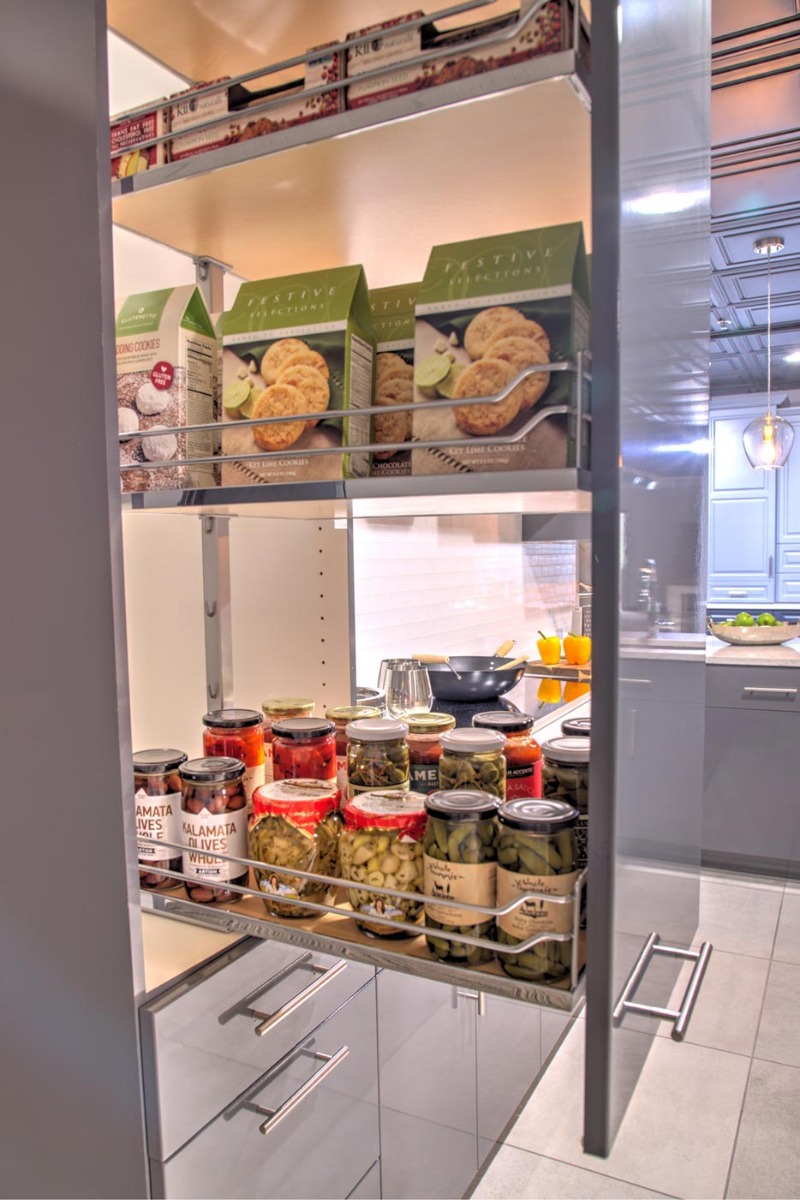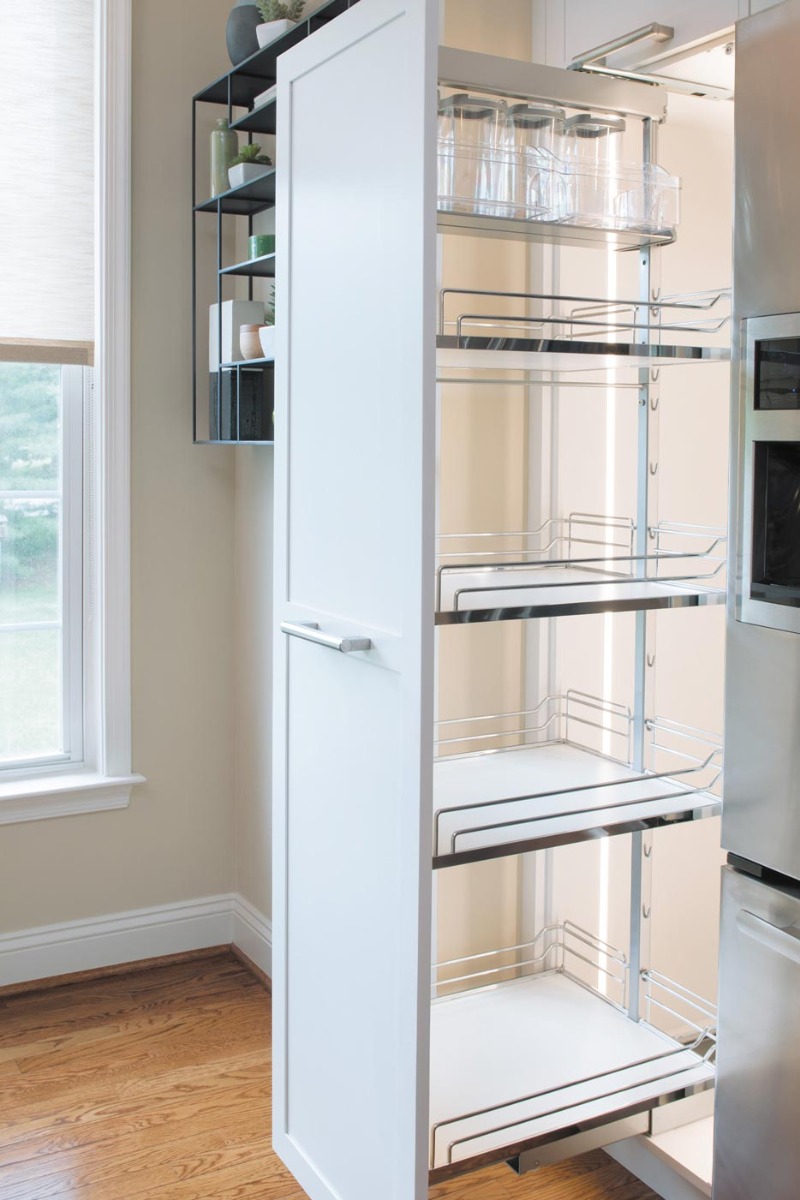 When it comes to these pantry storage systems it is important to note that the needs of the user are not ignored. A key element for your pantry storage unit is the strength and durability of the hardware. If you install a pullout pantry in your kitchen you do not want to worry if it will open properly or if it can handle the weight of the goods stored therein. When you select products that have the SoftSTOPP damping system you can rest assured your stocked pantry is secured.
Another great aspect of this pantry storage system is it doesn't require a lot of fancy tools for the installation process. Any able-bodied person ready to enhance the functionality and usability of their pantry can install one of these systems. The inclusion of the ClickFixx system helps you to guarantee that your frame set is properly connected.
The perfect kitchen design is a mixture of visual appeal and functionality. Kitchens are a place where one can investigate their culinary skills or the contents of the cabinetry. With the right cabinet accessories, you are able to remove the guesswork regarding where to find things.
Know exactly where all of your favorite spices and pantry staples are with a new pantry storage shelving system. Consider installing high quality, durable, and adjustable shelving perfect for a wide array of storage necessities. Arrange your cookware and bakeware in the unique, yet stylish LeMans shelving system. These cabinet shelving systems, as well as the corner Susan, change the overall look and feel of your kitchen. They also make it easier to maneuver in one of the busiest rooms of the home.
---