All cabinetry is the same. This statement is false. Not all cabinetry is the same. This could not be any truer than when it comes to the type of cabinet drawers you choose to install in any room of your home. When it comes to style, functionality, and simplicity there is nothing better than the Blum Legrabox.
If you are tired of cabinet drawers that slam shut on you, that have the same old tired and boring look then you need to take a gander at the Legrabox. The designers of this ingenious cabinet drawer did not leave anything to chance. They took into consideration everything a person could want in the kitchen, bathroom, or even a walk-in closet.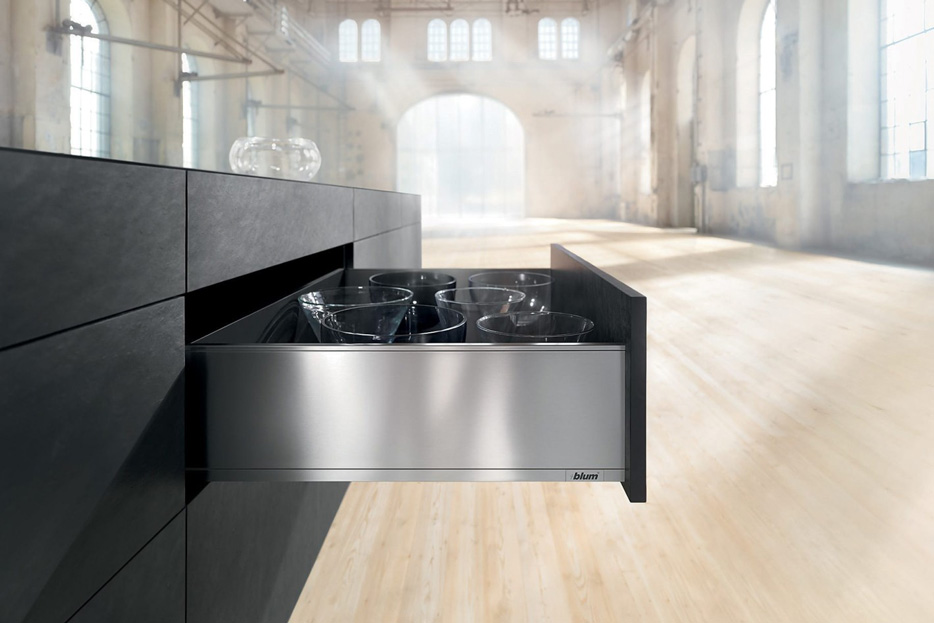 The game-changing design of the Legrabox will alter how you look and design your cabinetry in the kitchen and perhaps other rooms in your home. The Blumotion mechanism makes designing your base and tall cabinets an entirely different experience. No longer do you have to use the traditional tall cabinets with their deep, dark shelves. Now you can install the Legrabox in all of your cabinets and make searching for things easier than ever.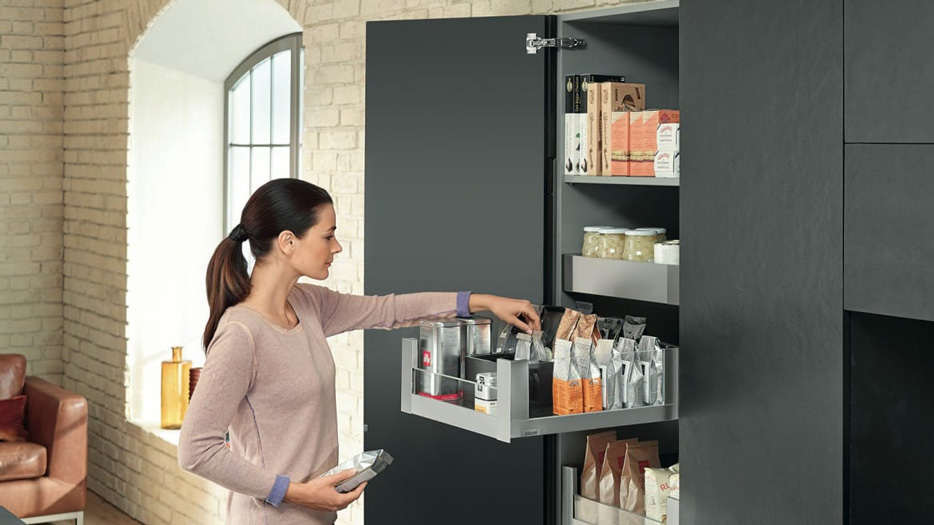 In the kitchen, you can finally have the neat and well-organized pantry you have always dreamed of having. Never spend an exorbitant amount of time looking for things with the installation of a Blum Space Tower with the Legrabox drawer system.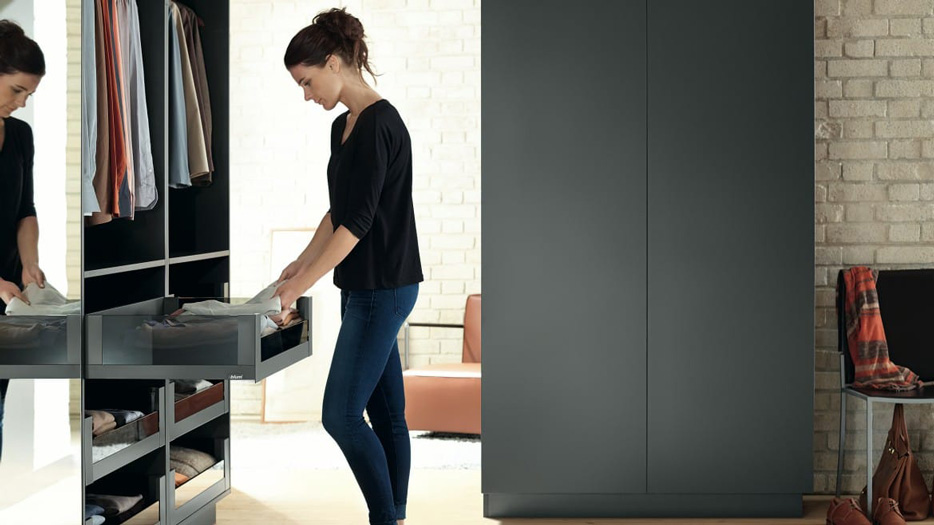 Organizing your clothes in your dresser or your walk-in closet can be just as challenging as organizing your kitchen pantry. Opt for stylish tinted glass mixed with the sleek metal of the Legrabox drawer system for your closet organization system. Even without a traditional cabinet door or drawer, your clothes will have a new stylish home.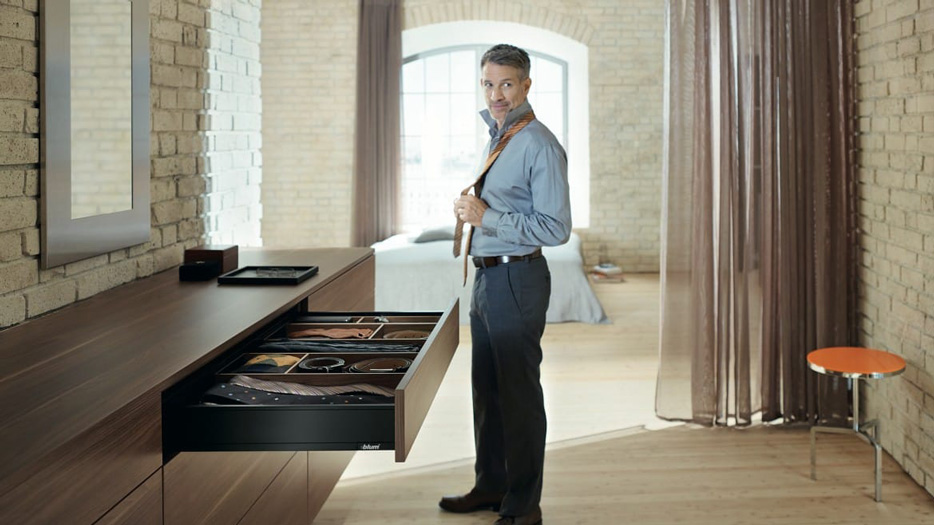 The bathroom is another room in the home that can benefit from the easy-to-open and quiet and slow-closing mechanism afforded by the Tip-On Blumotion created for the Legrabox.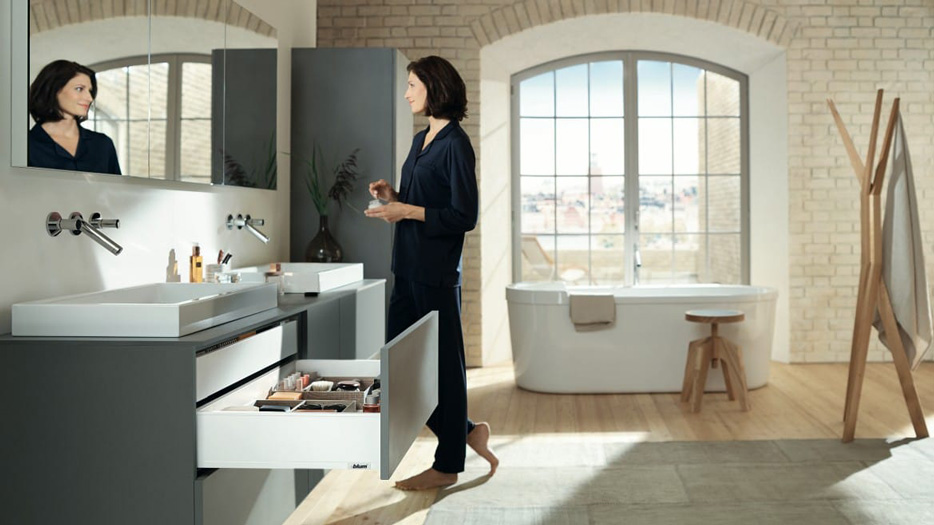 Instead of having numerous drawers in your bathroom consider the convenience of having one cabinet door that hides behind it two different drawers as pictured above. This could make for a much easier way to organize hair accessories, make-up, or other things stored in the bathroom. The bonus, whether your kitchen features two drawers or one larger drawer (as pictured below) you will benefit from the same easy-to-open system.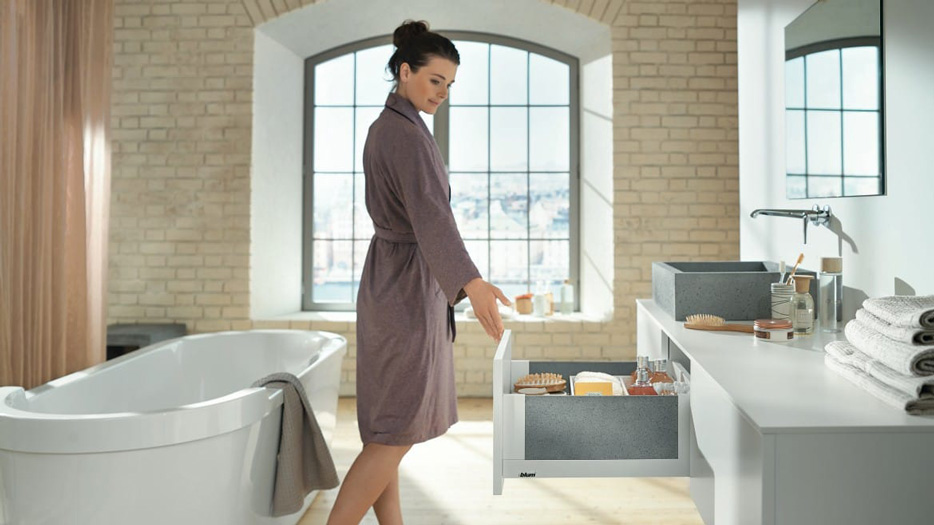 With one light press on the exterior, the cabinet drawer opens smoothly and closes without slamming. Furthermore, when two drawers are installed together, with or without the drawer door face, they will function in the same way.
Working in the kitchen has never been easier than it is when you choose to upgrade from traditional cabinetry. With a light tap on the drawer face with a hand, knee, hip, or foot the drawers open easily.
Closing the drawers has the added benefit of the slow closure. When pushing the door to close it starts quick but then slows down to prevent slamming. This is an excellent feature in homes with small children where fingers can get slammed it fast shutting drawers.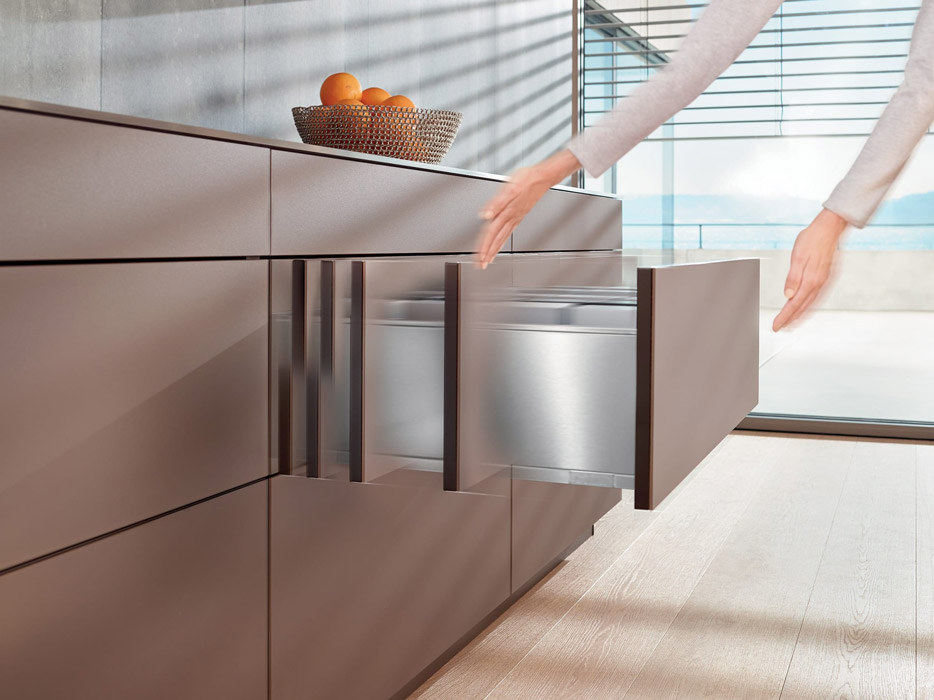 One of the best features of this particular type of cabinetry is how much easier it makes life in the kitchen. If you have already upgraded your kitchen to have a pull-out waste bin cabinet you appreciate having the unsightly waste bins out of sight. With that being said, how do you dispose of your produce scraps if your hands are full?
You either have to ask for help or grab the cabinet handle to throw that garbage out. In the process, you can contaminate the drawer pull or drop some of the garbage on the floor. Worst case scenario you do both. Now you do not have to worry about that thanks to SERVO-Drive. Simply use your knee or your hip to activate the automatic drawer opening mechanism.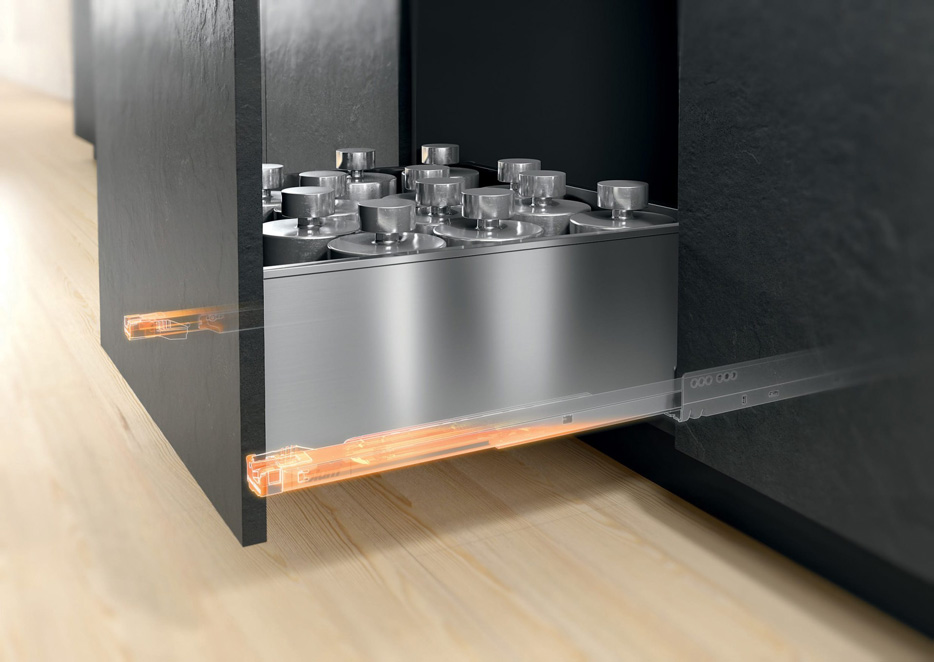 Because of the durable and sturdy construction upgrading to the Legrabox can help you eliminate all of that unnecessary clutter that fills your counters. Place those cumbersome appliances, pots, pans or various canisters containing your sugar, tea bags and more within the easily accessible Legrabox drawers.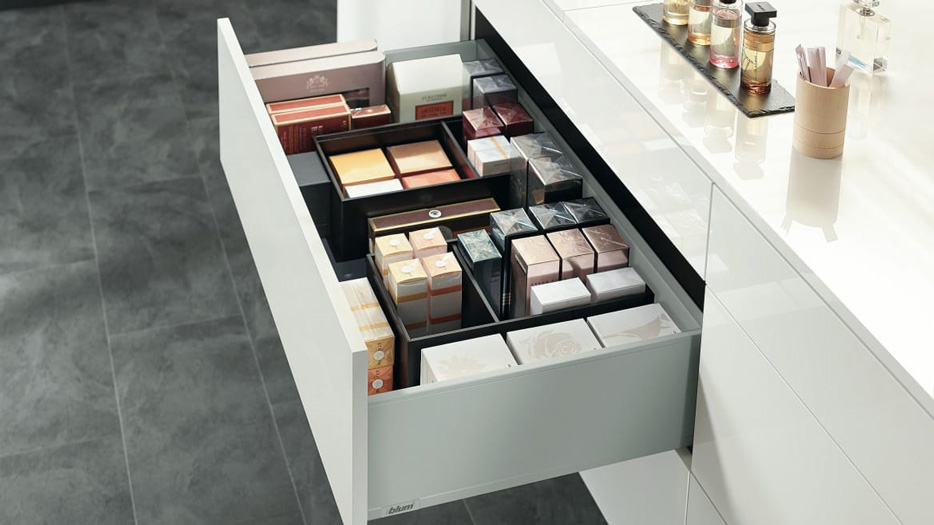 Another revolutionary option to consider is the specially designed Tip-On Blumotion for the Legrabox sink pull-out. When you have a small bathroom or kitchen counter sometimes it can be frustrating knowing where to place all of your soap dispensers, sponges, or other items out of the way. With this specially designed drawer, you can have storage space that frames your sink.
It is readily apparent that there are countless benefits to upgrading to a system like this in your kitchen and other rooms of your home. It is sleek, stylish, highly customizable, and makes life easier overall. One of the most common questions is how easy is the Legrabox drawer system to install?
As with the use, the installation is fairly simple. The first aspect of the installation is the internal cabinet hardware, the drawer mechanism. Next, the drawer itself is assembled. As can be seen in the video a screwdriver is the key tool for attaching and installing the front assembly of the drawer. It is also used to make any adjustments for how much space exists between the front assemblies of the different drawers. Other parts to the drawers snap into place.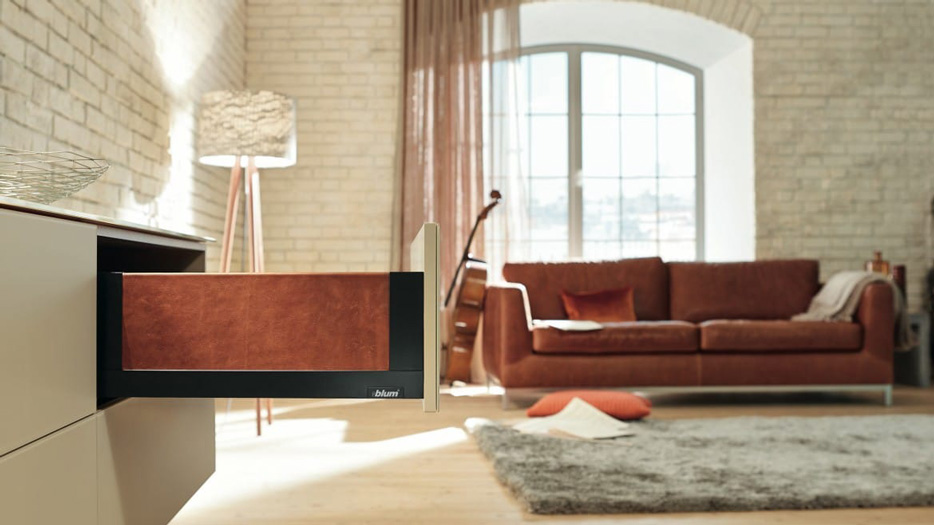 If you are tired of clutter, having to rummage through dark cabinets in the kitchen, bathroom, or even your closet there are solutions available. One of the options available is the Blum Legrabox with Tip-On Blumotion. Customization of your cabinetry is not limited to the exterior. With this system, you can truly get your home organized and do so with your exact design style in mind. Whether you like the clear-glass look, stainless steel, or wood each of these options is readily available.
If you are frustrated with not being able to easily find things in your kitchen. Or struggle with being able to do things on your own because you have traditional cabinetry, consider installing high quality and durable drawers that open and close with ease. Once installed you will wonder how you managed without them.
---